Facebook to add 900,000 sq ft to Eagle Mountain campus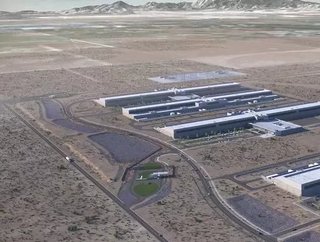 The expansion project will add a further two data centre buildings to Facebook's hyperscale data centre in Eagle Mountain, Utah...
Social networking giant Facebook has announced a massive expansion project taking place at its hyperscale data centre campus in Eagle Mountain, Utah, one of the facilities it uses to support its social media app, as well as Instagram and WhatsApp.
Construction on Facebook's Eagle Mountain data centre campus has been underway since 2018, with the first phase establishing a footprint of approximately 1.5mn square feet of land spanning three buildings and using more than 50,000 yards of structural concrete, 8,000 tons of steel, and 2mn hours of labour. Each of the three buildings is, according to William Marks, Facebook's Community Development Manager in Utah, "the —nearly four football fields long." 
Now, in response to what Marks calls an "immense" amount of traffic driven by the ongoing COVID-19 pandemic, Facebook is expanding the Eagle Mountain campus even further. "For the first time ever, there are more than 3bn people actively using Facebook, Instagram, WhatsApp or Messenger around the world each month. That includes 2.6 billion people using Facebook alone, and more than 2.3bn people using at least one of our services every single day. The reason we can handle this immense amount of traffic is thanks to our data centres, just like what's being built in Eagle Mountain," said Marks in an interview in July last year.  
Bigger all the time
The planned expansion will add another two buildings to the Eagle Mountain campus, expanding its footprint by 900,000 square feet. 
Facebook operates or is building a total of 16 data centres around the world, using leading open source hardware architecture techniques devised by its spin off organisation, the Open Compute Project Foundation. In a , Steve Helvie of the OCP noted that, due to efficient design principles and a modular, toolless approach to construction, Facebook only needs to employ one technician for every 40,000 servers in its facilities.
However, during the construction and expansion process, Facebook says that the Eagle Mountain campus will be a huge source of employment in the local area, with approximately 1,500 workers on site at construction's peak. 
US Representative Jefferson Moss commented: "This additional investment from Facebook is amazing news for our community and a testament to Utah's forward thinking policies that continue to encourage investments in our state." 
Sustainability at Hyperscale
Facebook, like other leading hyperscalers, is at the forefront of attempts to drive sustainability in the data centre industry. The company plans to make all 16 of its campuses carbon neutral and 100% supported by renewable energy. 
Its commitments are leading to the construction of more than 5,400 MW of new solar and wiln power plants globally, which collectively reduced the company's greenhouse gas emissions by over 2.6mn metric tonnes over the past three years. 
However, the company does help its carbon balance sheet with the purchase of carbon credits, which allow it to discount emitted carbon in exchange for investing in sustainability research and carbon capture projects like forest conservation. In 2019, Facebook offset 100,000 tonnes of carbon emissions using credits - the of more than 21,000 passenger vehicles or 550 rail cars worth of coal burned.  
In Utah, Facebook has invested heavily in solar power, delivering over 500 MW of clean power to the Utah Grid, meaning that upon completion, the Eagle Mountain campus will be 100% supported by solar power generated within the state. 
"Facebook's sustainable expansion in Eagle Mountain shows the long-term commitment this global tech leader has to Utah. Since 2018, this data center has been a tremendous boon to the local economy and we're extremely grateful for Facebook's ongoing investment in our state," commented Utah's Governor Spencer Cox. 
Security Concerns
Information about the Eagle Mountain campus' power capacity, as well as other details of the site are hard to come by. Facebook (and other hyperscalers like Google and Amazon Web Services) is extremely cagey about the details of its facilities. 
Local Utah residents have even complained of harassment by private security staff when driving near the Eagle Mountain campus on public roads. 
Local mother, Kendra Whatcott, commented on the Eagle Mountain campus' Facebook page, claiming that, "The second your car is 'spotted' by security there is a security vehicle who follows you, outside on the public road," adding that she was aware of those security details pulling over citizens, something the local sheriff's department assured her was illegal (it is).