Facebook expands Odense data centre campus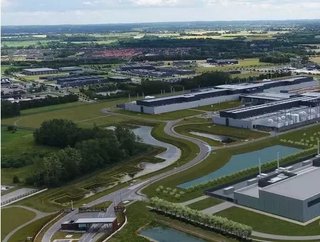 The $1.5bn, 30,000 square metre expansion will increase the capacity of the Danish data centre and provide heating to 11,000 local homes...
Facebook that it is embarking on a sizable expansion project at its hyperscale data centre in Odense, Denmark. The 50,000 square metre facility is being built out with almost 30,000 square metres of additional floor space. 
The project, Facebook has confirmed, will cost an estimated $1.5bn and will employ up to 900 construction workers at its peak. 
As part of Facebook's sustainability goals, the project will also result in more than 160,000 MWh of recycled energy, which will be captured and used to heat 11,000 homes in the local area. Facebook has contracted local heating company Fjernvarme Fyn to oversee the expansion of the Odense data centre's heat recycling capacity. 
The Danish firm was part of the first phase of the Odense data centre's construction, and outfitted its heating system to support 6,900 local homes as of July this year. The system uses the water that circulates through the data centre via insulated steel pipes that pass the water across copper coils for heat exchange. 
The Odense facility received LEED Gold certification for energy efficiency in April of this year and is part of Facebook's goal to support 100% of its operations with renewable energy by the end of 2020. 
The company has dramatically expanded its global data centre infrastructure over the past year, announcing its first data centre in APAC, a $1bn, in September. The hyperscale data centre is expected to come online in 2022. The company also announced the construction of a new hyperscale facility near Chicago in July with an estimated construction budget of $800mn. Rumours also surfaced earlier this year that the social media giant is beginning construction of the Netherlands' biggest data centre in the rural community of Zeewolde.
In the Nordics, Facebook also operates a $1bn hyperscale campus in Luleå, Sweden. Both its Swedish and Danish campuses are supplied with from three wind projects with a total output of 294 MW, which is supplemented by local hydro power sources.