H5 Data Centers, DE-CIX announce New York partnership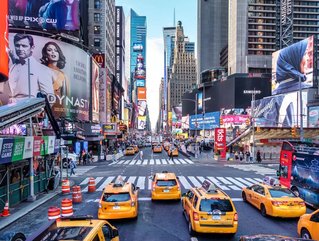 H5 Data Centers and DE-CIX are partnering to provide companies with data centre expansion or relocation plans to leverage colocation services
DE-CIX, the world's leading Internet Exchange (IX) operator and home to the largest carrier and data centre neutral interconnection ecosystem on the planet and H5 Data Centers, a U.S. colocation provider, have announced their partnership to enable companies expanding or relocating their data center and colocation services an opportunity to leverage premier colocation and connectivity services. Combined, H5 Data Centers' 325 Hudson data centre and DE-CIX New York's market-leading IX offer unsurpassed access to content, cloud, carrier, application, and service provider networks.
"Direct cloud connectivity and fortified Internet capabilities are top requirements for companies sourcing colocation and data centre facilities in New York," said Josh Simms, owner and CEO of H5 Data Centers. "DE-CIX New York's local platform at 325 Hudson offers peering, cloud connectivity, private user group connections and more. 
"As businesses seek alternative options in the market, 325 Hudson provides unrivaled access to a local interconnection ecosystem surpassing 250 networks, with a global reach to over 2,400 networks. We welcome the opportunity to showcase our facility and accommodate businesses who need reliable, consistent, and accessible services."
Ed d'Agostino, VP and General Manager of DE-CIX North America, added: "While we have been present at 325 Hudson since we launched DE-CIX New York over 7.5 years ago, we very much welcome the opportunity to start a new relationship with H5 Data Centers. We look forward to working with H5 Data Centers, and the strength of their national footprint, to take 325 Hudson to the next level."
Hudson Square, Manhattan sees influx in major tech companies
Hudson Square, the area of Manhattan surrounding 325 Hudson, continues to see an influx of major tech companies. Alphabet owns 111 Eighth Avenue and the Chelsea Market, two of the largest buildings in the Hudson Square vicinity, as well as 85 10th Avenue. Most recently, Google announced that it had purchased St. John's Terminal for US$2.1 bn, another large building in the Hudson Square area. In addition, the Hudson Square area is set to be the home of Disney's new headquarters, a 1.2mn sq ft building currently under construction.
DE-CIX New York is the fourth largest IX in North America and is the largest carrier and data centre neutral IX in the New York/New Jersey market. The Open-IX certified platform can be reached from over 100 access points and features over 250 local network connections, with direct reach to DE-CIX Frankfurt. Overall, over 2,400 networks interconnect at close to 30 IXs in Europe, the Middle East, and Southeast Asia. 
A single connection to DE-CIX's industry-leading multi-service platform offers access to public and private peering, remote peering, and DirectCLOUD connectivity including Microsoft Azure Peering, AWS, Google, and more, H5 Data Centers said in a statement.