Hanmi Global, HPE partner to tap Korean data centre market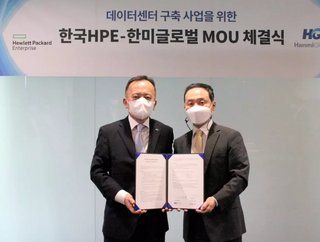 Hewlett Packard Enterprise is the latest international firm to partner with a South Korean company to gain a foothold in the country's data centre sector. 
US-based cloud computing and tech giant Hewlett Packard Enterprise (HPE) is the latest international company to make a play for the burgeoning South Korean data centre market. The Korean cloud sector is booming, with massive ongoing investment into the country's digital infrastructure growing year on year. Korea is a strong contender for the global 5G leader, home to massive tech firms like Samsung and SK Hynix. 
However, the South Korean market is notoriously hostile to foreign tech firms looking to muscle in on the action. Western giants that dominate their home markets - as well as dozens of others throughout the world - have struggled over the past few years to gain a foothold on the peninsula.   
The country takes great pains to exclude western tech firms in favour of its own homegrown alternatives. Google Maps in South Korea works only slightly better than Google Maps in the DPRK; Naver - the country's answer to Google, along with a few other domestic firms, dominates the market. Messaging services like WhatsApp and Facebook Messenger have little to no foothold here; Kakao Talk is the country's de facto form of OTT communication. 
There's a concerted effort to keep it Korean and, as a result, foreign tech companies have had a hard time finding a foothold in one of the world's most advanced digital economies. 
Korea's largest tech firms also tend to be diverse beasts. 
Kakao, for example, owns the country's most popular messaging app, dominates 90% of the country's taxi-hailing market, and owns Korea's largest music distribution company and most popular streaming service - all of which present direct obstacles to both Uber and Spotify, which are currently fighting for their own slices of very heavily-subscribed pie. 
The fact that Korea makes almost no effort to prevent four or five companies from dominating just about every one of the country's different industries also means that, when it comes to data centres, foreigners tend to receive a frosty reception. It makes sense, when the SK Group - which owns one of the country's leading telecom carriers, develops AI engines, and is the country's second-largest chip maker - has been investing heavily into the data centre sector itself lately. 
The solution, which is being successfully pulled off by Singaporean data centre group STT, and which HPE announced it would also be attempting on Wednesday morning, is to partner up with a domestic firm in order to give your entry into the market a few much needed Korean bona fides. 
Local news outlet The Korean Herald reported this morning that HPE and Korean construction project management firm Hanmi Global have signed a memorandum of understanding to "promote South Korea as the next data centre hub of Asia". 
HanmiGlobal's President, Lee Sang-ho, and Hewlett Packard Enterprise's Korea Managing Director, Kim Young-chae, signed to the document on Wednesday, which covers the various ways in which the new joint venture will manage, build, and (perhaps most importantly) market a string of data centre projects in South Korea. 
Under the agreement, Hanmi Global will be providing project management services, while Hewlett Packard Enterprise will offer the technology and consulting expertise to build and outfit the data centres themselves. 
"We are very happy to partner with HPE, the leading provider of cloud technology infrastructures," said Lee Sang-ho, president of Hanmi Global to The Korean Herald this morning.
"The two companies hope to contribute to mutual development with Hanmi Global's know-how in project management, as well as put efforts to help client companies successfully make profit through their data centres.