How Raxio data centres power Africa's digital transformation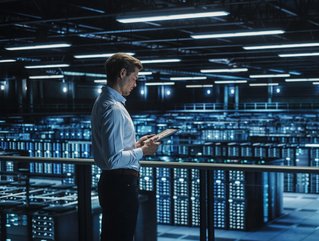 We profile Raxio Data Centres, taking a look at how Africa's leading carrier-neutral data centre operator powers the continent's digital transformation
Founded in 2018, Raxio Data Centres, part of Raxio Group, is the leading carrier-neutral data centre operator in Africa. Its CEO, Robert Mullins, is responsible for strategic planning, leading the expansion of Raxio's data centres across Africa, and also managing the Group's relationship with its network of international and regional customers and partners. The company's data centre facilities are currently located in Uganda and Ethiopia, with additional head offices in Dubai and New York.
Raxio offers state-of-the-art equipment and professionally managed facilities, ensuring its customers' services can run in a safe, secure, and redundant environment 24/7. As a carrier-neutral data centre operator, it also provides customers with a diverse range of connectivity options to meet a range of requirements.
The company's services include colocation, cross-connect, active and dark fibre, caging and remote hands support, among others. It also works across several industries, including financial services, Content Delivery Networks (CDNs), cloud service providers, enterprise, and network and connectivity.
Raxio continues pan-African expansion by investing in Tanzania's first carrier neutral Tier III data centre
The company recently announced that it is investing and establishing 'Raxio Tanzania', the first state-of-the-art, carrier-neutral, Tier III data centre in the country. Raxio Tanzania is the latest facility to be part of Raxio's fast-expanding network of interconnected carrier neutral, Tier III data centres across the African continent.
The announcement, made on 23rd March 2022, outlined that the new facility is due to be commissioned next year and will be the sixth data centre in Raxio's portfolio of facilities in Africa. The centre is being developed in collaboration with carefully selected international and local contractors to Raxio's tried and tested standards of excellence, Raxio claims.
At the time of the announcement, Mullins said: "Our decision to build Tanzania's first Tier III carrier neutral facility highlights our commitment to our strategy to deliver the vital digital infrastructure needed on the African continent. With new connectivity solutions arriving and the rapid evolution of the digital ecosystem in the region, we will continue to build larger, hyper-scale ready facilities across a wider geographic footprint to meet the demand.
"As the second largest telecoms market in East Africa, with growing demand for connectivity and related services and its strategic location, Tanzania becomes an important centerpiece of our growing portfolio. As with all our facilities, Raxio Tanzania is being developed in full alignment with our ESG goals, driving a positive impact through both direct and indirect creation of highly skilled jobs for Tanzanian professionals, and a facility that is built and operated to the highest international environmental standards," he added.