Kohler Power Systems counters climate change with HVO
By Charlie Steer-Stephenson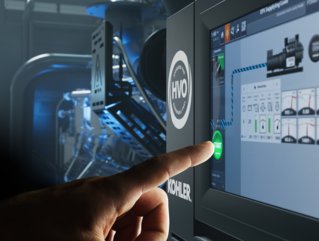 Data centres typically rely on a lot of polluting diesel-powered energy. Kohler Power backs biofuels as the answer to replace this fossil fuel
In a previous Data Centre article (April 2021), we discussed the need for such a high-power use sector to "evaluate alternative technologies rather than persist with a continued reliance on diesel fuel". At this time, diesel fuel was being restricted and data centres were encouraged to find cleaner ways to power their generators.
Just over a year later, Kohler Power Systems has announced that its data centre generators will now run on fossil-free and renewable Hydrotreated Vegetable Oil (HVO).
HVO - next generation renewable fuel
HVO adoption marks a significant breakthrough in the usage of alternative fuels in backup power. No adaptations to the installed generators are required, allowing for the immediate rollout of renewable fuel to customers seeking to reduce their carbon footprint.
"At Kohler, we have already made great strides in making our generators inherently more efficient, reducing emissions regardless of the fuel used," says James Zhang, president, Kohler Power Systems.
"Now with HVO, we have taken a massive leap forward in our sustainability journey by greatly reducing the carbon footprint of our diesel products''.
Exclusively sourced from food-waste products and vegetable oils, HVO is one of the cleanest fuels on the market. Its anti-microbial quality also means HVO has a storage life ten times longer than first generation biofuels. HVO is therefore easier to preserve in a greater range of temperatures than its fossil fuel counterparts.
Kohler's customers will also be pleased to know that HVO can be used directly to replace existing generators, without the need for adaptations or modifications.
Net Zero by 2035
Sustainable, reliable and available, HVO is just one way that Kohler is fulfilling its promise to work towards net zero by 2035. The company's sustainability mission also depends on tracking their energy and water use, greenhouse gas emissions, and landfill waste.
Amidst the current climate panic, this promise of a new, sustainable form of energy for data centres will reduce CO² emissions by 90%. HVO is therefore a huge step further in Kohler's mission to provide customers with a 'carbon zero tomorrow'.
"Customers can continue to rely on Kohler for their backup power needs, and now with a greater commitment to sustainability and reducing their carbon footprint, while not compromising on performance. The HVO fuel option supports Kohler's commitment to our Better Planet strategy within the Believing in Better operating philosophy that focuses on overarching environmental goals," Zhang adds.
Melissa Reali-Elliott, Digital Marketing Manager at Kohler Power Systems, agrees with Zhang.
"Kohler's social impact efforts are tied to what we value as an organisation, which include a commitment to a better planet, better community, and better lives. This has inspired purposeful innovations in areas such as renewable diesel fuels, which yield massive improvements to the carbon footprint of diesel generators, with the primary benefit being a dramatic reduction in greenhouse gas emissions.

"We all know that growth of data centres is at an all-time high, and with it, a growing need for reliable backup power. Kohler has just approved use of HVO for all diesel engines; this can be used wherever diesel fuel is used today, achieving a reduction in CO2 emissions of up to 90%. It is 100% fossil-free and 100% recycled."