MC Digital Realty launches dual-site data centres in Japan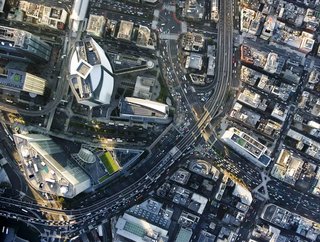 The joint venture between Mitsubishi Corporation and Digital Realty will create industry-first dual-site data centres in Osaka and Tokyo in Japan
MC Digital Realty, a joint venture between Mitsubishi Corporation and Digital Realty has today announced the industry's first dual-site data centres in Tokyo and Osaka. The launch brings MCDR's total data centre capacity in Japan to 112MW. It also extends the company's PlatformDIGITAL 
The two facilities, Digital Narita 1 (NRT10) in Tokyo and Digital Saito 3 (KIX12) in Osaka are designed to deliver a dynamic community for customers to deploy network hubs on PlatformDIGITAL, a first of its kind global data centre platform for scaling digital businesses, MC Digital Realty said.
Talking about the location for the data centres,  A. William Stein, Chief Executive Officer, Digital Realty, said: "Japan is among the top three most attractive data centre markets globally, renowned for its world-class digital infrastructure, mature technology ecosystem, and position as a key financial and technology hub in the Asia Pacific. 
"Our partnership with Mitsubishi Corporation continues to open new opportunities for customers to access Digital Realty's globally connected data communities and scale their digital business," he added. 
The company says that the new development is part of a broader vision to build a new era of open, secure and dynamically connected data communities in major hubs around the world to unlock opportunities and trapped value in digital business, as outlined earlier this year in Digital Realty's industry manifesto for open interconnection. 
The collaborative approach with the industry aims to remove legacy barriers to digital transformation by more closely aligning with the hybrid IT and security considerations of multinational enterprises, claims MC Digital Realty.
Digital Realty's Data Gravity Index DGx projects that Forbes global 2000 enterprises will be adding storage at a combined rate of more than 620 terabytes per second for data aggregation and exchange across 53 metros by 2024, with Asia Pacific expected to generate the fastest growth across all regions. Japan is poised to see accelerated growth in its data gravity intensity, with both Tokyo and Osaka expected to have one of the highest data gravities globally by 2024.
"The Japan market is poised for accelerated growth over the next few years, driven by surging cloud growth and demand for data center solutions. The dual-sites that we are launching in Japan today will allow us to meet this rapidly growing demand, by extending coverage, capacity and connectivity options for customers in the region to pursue their digital ambitions," says Mark Smith, Managing Director APAC for Digital Realty.
MCDR acquires "land parcels" for data centres in Japan
MCDR has acquired several land parcels for the development of data centers to expand its footprint in Japan. In Tokyo, MCDR has acquired the land surrounding the NRT10 facility for further expansion within the Inzai data centre campus. In Osaka, MCDR will be expanding the KIX campus with the development of a new KIX13 facility, adjacent to KIX12. The new facility is scheduled to launch in 2023.
"With the launch of NRT10 and KIX12, we are well-positioned to become one of the leading data center operators in Japan. We are excited to continue growing our presence in this thriving market, to support the hyperscale and colocation needs of our customers across the region," said Bampo Tezuka, President and Representative Director of MC Digital Realty.