New Dutch data centre will heat people's homes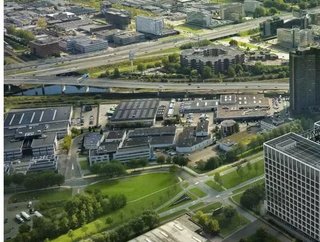 Real estate trust group Caransa is building a facility that is capable of district heating...
Amsterdam will be the first city in Holland to have a data centre that can harness its excess heat for use in the wider community.
The will utilise thermal storage and state-of-the-art systems, in combination with continuous monitoring of energy consumption, to share excess heat and to reduce energy usage. 
The facility is being built by , specialists in commercial property development. The data centre will be over 1mn square feet in size and will consist of three, 80-metre high towers located next to Amsterdam's Telegraaf Media Group head office in the Western Docklands.
Data centre restrictions
Earlier this year, a one-year moratorium on data centre construction was lifted in Amsterdam, allowing developers to resume projects. The directive was put in place following concerns that data centre demands on the local power grid and land requirements were spiralling out of control.
New legislation now allows developments to continue if restrictions on power budgets and floor space are strictly observed. 
The new data centre will also, as a concession, provide energy for use by local homes and businesses. Waste heat from the Amsterdam facility will serve the district heating network of Westpoort Warmte, a joint venture between Nuon, a Vattenfall company, and the Municipality of Amsterdam.
Such practices are more commonplace in the Nordics where district heating systems are compatible with sharing the excess heat.
New systems
The heat-sharing concept has been under consideration for some time in Amsterdam, according to reports. In 2018, the local government in Amsterdam said it was hoping to use excess heat from data centres aiding the city's project to eliminate gas-fired central heating by 2050.
Equinix was reportedly planning to divert heat to several buildings at the University of Amsterdam. The company had plans to deliver 100% of its residual heat to the district heating network, supplying around 70,000 buildings. 
Following on from that, this September, CyrusOne announced it was partnering with the Municipality of Haarlem and business park PolanenPark to research capturing waste heat at its Amsterdam I data centre.
The company leading the heat collection and distribution project is Vattenfall - a Swedish enterprise currently working with district heating networks across Europe. In 2019, Swedish power company Vattenfall and AEB announced it would invest $474mn over the next three years into growing out their district heating network.
Trending sustainability
News of Amsterdam's new data centre project comes hot on the heels of Facebook's recent announcement that it is embarking on a sizable expansion project at its hyperscale data centre in Odense, Denmark. 
The 50,000 square metre facility, which will result in more than 160,000 MWh of recycled energy, is being built out with almost 30,000 square metres of additional floor space. The $1.5bn project will cost an estimated $1.5bn and will employ up to 900 construction workers at its peak. 
As part of Facebook's sustainability goals, the excess energy will be captured and used to heat 11,000 homes in the local area. The Odense data centre was also recently granted a LEED Gold certification for energy efficiency. 
According to a released by Caransa Group, the Amsterdam project will be a test case for future sustainable developments and heat-sharing facilities with more projects already in the pipeline. 
It said, "This new project will lead to the realisation of the second data centre of the Caransa Group. It will be the most energy-efficient data centre in Amsterdam and fits perfectly with Amsterdam's climate goal of reducing greenhouse gas emissions by 40% in 2025."
The statement concluded, "As the present generation of data centres consumes large amounts of energy, it's crucial that technologies such as thermal storage and other cutting-edge systems are used. In combination with continuous monitoring of energy consumption, they will result in significant energy savings for the new data centre."