NorthC launches Europe's first hydrogen-powered data centre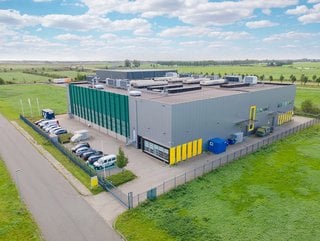 NorthC, a data centre company based in Holland, has launched the first data centre in Europe to have fuel cells that run on green hydrogen
NorthC, the largest regional data centre company in the Netherlands, is taking an important new step towards further sustainability improvements.
The company has announced a new data centre facility in Groningen, in the north of the Netherlands, which it claims will be the first in Europe to have fuel cells that run on green hydrogen (H2). This aims to reduce CO2 emissions and NorthC is investigating whether this hydrogen technology can also be applied in the company's other data centres.
NorthC's data centre hydrogen cell to save on diesel in crucial step towards sustainable operations
Data centres usually have several emergency power generators that run on diesel to guarantee the availability of the digital services on which our society depends in the event of a power failure. Although these diesel generators are rarely actually needed, they should be checked regularly – on a monthly basis – to ensure that they are working correctly. This process results in the consumption of diesel fuel and, with the large number of emergency power generators in all data centres in our country, that represents a considerable amount of diesel.
The 500 KW hydrogen cell module that will be installed in the new NorthC data centre in Groningen will save tens of thousands of litres of diesel on an annual basis. Burning this amount of diesel would produce more than 78,000 kilograms (78 tons) of CO2. According to NorthC, that is equal to 24 cars driving the average number of kilometres for Dutch people (32 km per day) for a year, or 20,000 smartphones being charged every day for a year.
Discussing the importance of sustainability to NorthC, the company's Chief Operations Officer Jarno Bloem, said: "The data centre industry has a responsibility to ensure that we operate as sustainably as possible. For example, all our regional data centres run entirely on green power. We are also actively engaged in additional sustainability initiatives, such as projects that use the residual heat from our data centres to heat homes and businesses in the area.
"An important next step is to switch from emergency power generators that run on diesel to sustainable alternatives. We believe that green hydrogen offers the best possibilities in this respect and have therefore entered into a partnership with Nedstack – one of the frontrunners in the field of large hydrogen cells," Bloem added.

For existing generators that run on diesel, NorthC is investigating whether it is possible and cost-effective to make them suitable for hydrogen. While this is less efficient than hydrogen fuel cells, which convert H2 directly into electrical energy, it would significantly reduce emissions by more than 80% and further contribute to sustainability, the company said in a statement.
The hydrogen cells in Groningen are expected to be operational by the middle of June.
Join global business leaders and sustainability experts taking meaningful action at Sustainability LIVE, held at Tobacco Dock, London, 23-24 February 2022. Register to attend today! Click here to learn more.