Serverfarm advances Los Angeles data centre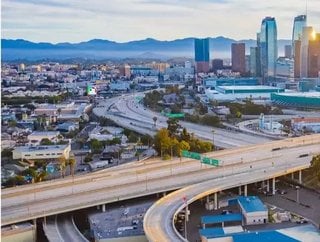 Serverfarm continues to drive sustainability through the acquisition and modernisation of a data centre in Los Angeles...
Serverfarm has acquired a new data centre in Los Angeles as part of its mission to drive sustainability, following an announcement yesterday.
The data centre developer and operator also hopes to modernise the centre, located in the metro city of El Segundo, joining forces with its long-term partner, NantWorks.
According to Serverfarm, the partnership hopes to continue both companies' mission of becoming state-of-the-art data centres with advanced communications and computing technologies that benefit media, healthcare, science and entertainment.
Explaining the organisaton's plan for the acquisition, Avner Papouchado, Chief Executive Officer of Serverfarm, said: "Throughout the pandemic, we've been laser focused on delivering much-needed capacity to our clients and partners in the most efficient way possible.
"The latest phase of our data center acquisition strategy is helping to answer demand for efficiently managed colocation space in a Los Angeles site that's a launching pad to APAC and the rest of the world.
"We're proud to offer our world-class InCommand DMaaS solution in a community that's home for myself and many of our team members," he said.
Spanning a total of 117,500 sq ft, Serverfarm says that the 22 MVA building will host hyperscale, transportation, healthcare and government tenants and is "strategically located" to be near to movie production studios, major aerospace and defense contractors, research and development companies and corporate campuses.
The centre aims to offer a secure global network on-ramps due to its connection to Tier 1 and dark fiber providers and meets all HIPAA, HITECH and PCI compliance requirements, Serverfarm claims.
After expanding into Europe and Toronto in Canada, the Los Angeles acquisition builds on Serverfarm's portfolio of owned and managed assets, with the total number of locations now reaching over 100 across more than 40 countries.
With the arrival of Earth Day this week, Serverfarm will launch The Future of Data Centres, its own podcast in the first of four quarterly mini series that will air in May, hosted by Founder of GreenBiz, Joel Makower.
Earth Day is on Thursday 22 April with the theme 'Restore Our Earth.'