Soaring eco-consumer spending power and the untapped segment
By Lenneke Schils, Global Insights Director at GfK
The 'value action gap' embodies unfulfilled green intentions. The gap between how shoppers want to buy and how they do buy, and it's worth US$806bn in FMCG
Sustainability has become "more" or "much more" important to 52% of shoppers worldwide, driven by the shake-up of the pandemic. United under a single international disaster, consumers are far more aware of the global connection between nature and their economic and social realities, and the impact their buying has on the environment.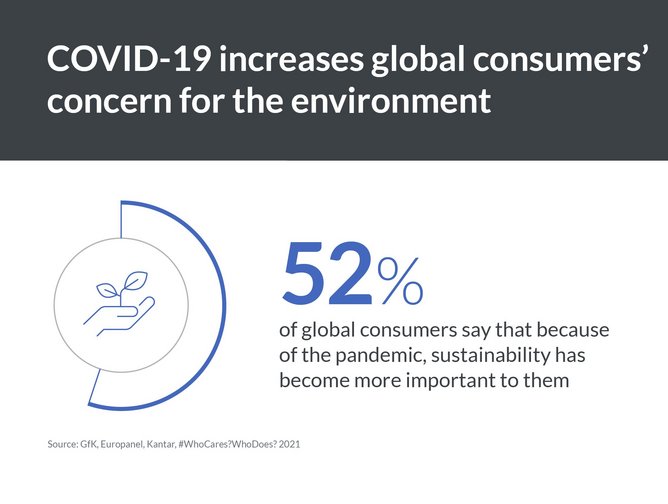 Consumers' unfulfilled green intentions
This large-scale leap in consumer attitudes presents a challenge for businesses, but also an opportunity, with an increasing number making green issues a key driver of their purchase decisions. However, GfK has identified a more complex dynamic –an observable disconnection between how consumers say they want to buy, and how they actually buy.
This discrepancy represents unfulfilled green intentions. It means consumers want to play their part in a sustainable future, but are being held back by external factors–be that cost, selection choice, availability, lack of convenience, confusion over product credentials, lack of information, lack of trust in brands' green claims, etc. Brands that can drill down to the specifics or what is hindering these consumers and present genuine offers that it is easy for them to buy as they want to, can tap into significant spending power.
The size of the "value action gap"
Take attitudes around packaging: GfK's Who Cares? Who Does? Report 2021 shows that 65% of global consumers try to buy products that are packaged more sustainably, but only 29% regularly avoid plastic packaging. And this is despite the fact that the report also shows that product packaging is one of the most important factors that green consumers consider when they try to buy sustainably. So, 36% of consumers are somehow being prevented from fulfilling one of their most important green shopping intentions. When you consider that GfK has calculated this 36% to be worth $806bn of untapped FMCG market opportunity, the force of this finding leaps out.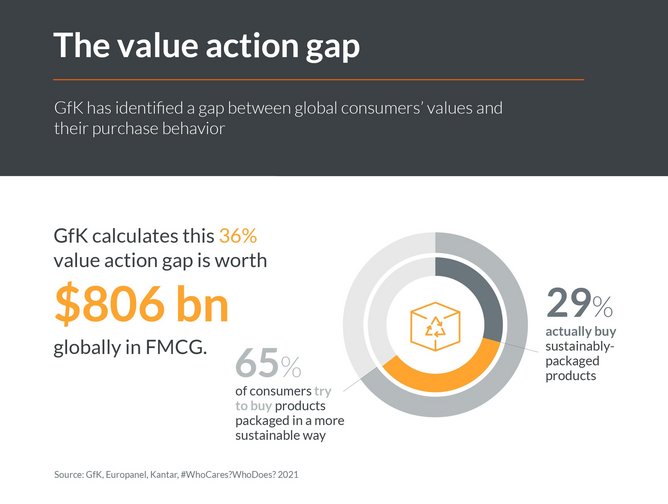 The barriers to sustainable shopping
These consumers are regularly encountering barriers that prevent them from acting on their desire. Brands that understand these barriers and invest in building genuine offers that help shoppers to achieve sustainable retail behaviour can close the value action gap, unlocking valuable revenue streams in the process.
3GfK has pinpointed four of the main obstacles shoppers experience when trying to make green purchase decisions.

Affordability – 53% of global consumers say that sustainable alternatives for many of the products they use are too expensive, making this the most common barrier to sustainable shopping. Consumers are not convinced of why the 'green' should carry a premium price.

Functionality – 31% of consumers say the environmentally friendly alternatives for many of the products they use just don't work as well, or are less effective,than standard ones.

Findability – only 41% of global consumers can name one brand that shows genuine concern for the environment. Stepping into a supermarket involves thousands of micro-decisionsand compromises–organic vs. air miles vs. packaging. Very rarely does one product offer a 360-degree, full green package. Consumers are forced to invest energy in judging what is the most genuine option in the tide of claims.
Distraction – 37% of "Eco-considerers" report they get distracted by other things when in the supermarket. The onus is on retailers to design and configure spaces thathelp shoppers focus on green retail as a smooth, convenient, and recurring part of each shopping trip