Sustainability is more than simply being "green"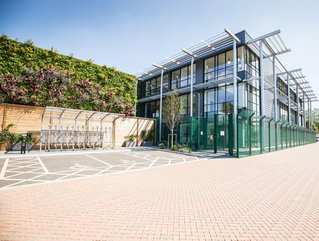 David Watkins, solutions director for VIRTUS Data Centres, discusses the difference between energy efficiency and sustainability in the data centre sector
Whilst there have been plenty of impressive green initiatives by organisations - such as AWS committing to be using 80% renewable energy by 2024, 100% by 2030 (potentially as early as 2025) and to be net zero carbon by 2040 - the data centre industry has also suffered from claims of "green washing", where some providers simply label existing products and services as sustainable and hope to enjoy the good PR as a result. Some also say that operators talk a good fight when it comes to tackling climate change, but more – much more - needs to be done.
There is a lot of misconception in the data centre industry about what sustainability actually means. For some, it's all about energy efficiency; but is energy efficiency really working towards sustainability or is it just relabelling what the industry had always done - run data centres as efficiently as possible because it makes good economic sense and helps to reduce costs? Indeed, many data centre providers now use being "green", as a competitive advantage, knowing that businesses in all industries are increasingly demanding sustainable partners. In 2021, Sustainability disclosure requirements (SDRs) were introduced making all major UK corporates and financial institutions subject to sustainability reporting, with other sectors to follow.
However, there is a very real danger, that without a uniform and consistent application of standardised measurements, claims of sustainability could be unsubstantiated or misinterpreted. To prove their sustainability credentials, data centres must be held to task, to build trust with customers and eliminate claims of "green washing".
It is clear that the data centre industry isn't going to achieve true sustainability simply by relying on developments in technology and tweaking what is already being done. Indeed, most data centres have been operating best practices for some time, such as developing a robust approach to air management and implementing effective cooling techniques. Even with this good progress, there's still a long way to go before the industry is truly sustainable. Mindsets, strategies and cultures need to change and providers need to incorporate the three R's; Reliability, Resilience and Responsibility to build trust and credibility when it comes to sustainability claims.
Can sustainability claims be trusted?
Not a month goes by without a company announcing plans for achieving carbon neutrality – and today, any provider not "on the road to net zero" is firmly the exception. But in the wake of accusations of "green washing" and "green hushing" data centre providers must do more than talk the talk. They must build trust by clearly demonstrating to users and customers that they are keeping their sustainability promises if they are to prove their public claims with reality.
One good way of building trust is to be accountable and obtain recognised certifications, providing a third-party verification of sustainability credentials. Building Research Establishment's Environmental Assessment Method (or BREEAM) and Leadership in Energy and Environmental Design (LEED) are both sustainability rating schemes for the built environment, which look at the lifecycle of a building, from the concept and design, to construction, operation and maintenance.
Standards can also be helpful in the pursuit of transparency – specifically ISO 50001 for Energy Management and ISO 14001 for Environmental Management - providing a clear framework, allowing providers to thoroughly interrogate their effectiveness against green ambitions.
Sustainability in the data centre is worthless without responsibility, reliability and resilience
But what good are standards and certifications if the data centre doesn't do its job? Sustainability goals must be intrinsic to performance goals, and that means holistically incorporating reliability, responsibility and resilience, otherwise green initiatives will be worthless. Fortunately, these commitments are fundamentally entwined; a high performing and reliable data centre is also likely to be a sustainable facility.
For most data centre providers, 100% availability is a key performance indicator since the IT loads they support are mission-critical and the cost of downtime is high. In terms of power requirements, the interruptible power supply (UPS) is determined by several factors including the criticality of the systems under load, the quality of the existing power supply and of course, the cost.
The last couple of years have seen a steady stream of public commitments from the world's major data centre operators. A group of providers and trade associations from across Europe have signed the Climate Neutral Data Centre Pact, committing to ensure data centres are climate neutral by 2030, in advance of the European Green Deal target of Europe being climate neutral by 2050. Some have outlined their plans to do more to tackle climate change by introducing measures to make their sites more energy-efficient and less reliant on fossil fuels; 62 per cent of Oracle's data centre power is certified as renewable and Google has been using 100 per cent renewable energy since 2017.
Fortunately, renewable energy sources are fast becoming seen as more reliable than fossil fuels – not least, because renewable energy is not reliant on a single source, but from several supplies such as wind, solar, hydro and biomass. And free from the fluctuations of the international oil market, renewable energy is more resilient in cases of falling demand and economic decline – crucial as we traverse through an uncertain political and economic landscape.
Another great example of performance and sustainability being intrinsically linked is within the cooling of a data centre. There has been plenty of innovation happening in this arena, and the good news is that energy efficient methods of cooling such as harnessing indirect adiabatic and evaporative cooling technology are both more sustainable and more efficient than many older methods. There have however, also been efficiency improvements with older methods resulting in improved performance without the water consumption of adiabatic systems. This has led to the availability of solutions that are suitable for all climate regions around the globe.
The global demand for data centre capacity shows no sign of slowing down. Society's appetite for all things digital is unabating and operators are under pressure to bring facilities online as quickly and efficiently as possible. But all of this digitalisation has an environmental impact and data centre providers need to be responsible and understand that sustainability means much more than simply being "green". It does of course include reducing and minimising environmental impact, but it also includes providing a high-quality service at a reasonable cost whilst at the same time having a positive impact on society - and it needs to be tested and substantiated against industry standards.