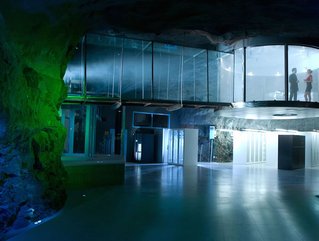 We list the top 10 data centres built underground from companies such as Iron Mountain, Bluebird, and Subtropolis, which also is the most secure
Data centres are facilities providing companies with the space to store their data in temperature-controlled environments. Most data centres are located above ground, but what about those below the surface? We list ten underground data centres.
1. Iron Mountain's WPA-1 data centre
The first data centre on our list is Iron Mountain's WPA-1 facility in Western Pennsylvania in the United States. According to IronMountain, WPA-1 is located 220 feet underground and uses a natural lake for cooling, optimising energy efficiency whilst offering the highest levels of security and protection.
2. Bluebird Network's underground data centre
At 85 feet below the ground, Bluebird Network's underground data centre is situated closer to the surface than Iron Mountain's. The facility is based in Springfield, Missouri, United States and offers an N+1 Cooling system, which saves more than 150mn gallons of water per year. It has 125,000 of expansion space and 11,000 square feet of white space.
3. Subtropolis - the most secure underground data centre in the world
A mission-critical campus for purpose-built data centres, Subtropolis is one of the most secure underground centres in the world with armed security, monitored video surveillance, card and PIN access, and a solid limestone structure six times stranger than concrete. It offers customers 400,000 square feet of available underground space.
4. Cavern Technologies underground facility
Cavern Technologies underground data centre is located 125 feet below the Midwest Prairie in Kansas City, United States. It has a custom-built HVAC for cooling, and offers cloud and connectivity solutions through strategic partnerships with multiple carriers.
First opened in 2016, The Lefdal Mine is a data centre with 75 underground halls and is located in the region of Sogn og Fjordane between Måløy and Nordfjordeid. It is located next to a deep, cold fjord with a stable and ample supply of price leading CO2-neutral energy (hydroelectric). It has a leading European cooling solution providing a PUE range of 1.08 to 1.15 depending on UPS configuration and scale of capacity.

The 65,000-square-feet InfoBunker in Iowa operates in a government communications bunker, purpose-built by the military to house sensitive electronic gear during the Cold War. Combining commercial technology with military-grade reliability, InfoBunker provides the most secure and reliable location for off-site data centre, colocation and hosting needs. It has 2N+2 Fully Redundant Air Handling & Cooling Systems and backup underground 17,000-gallon water-based fire suppression.
Buried 65-feet underground in Louisville, Kentucky in the United States, Strataspace is a 500,000 square feet data centre facility with approximately 250,000 square feet of raised data centre floor space. Features include an automated air ventilation system capable of changing the air in the facility six times every hour. It also has an underground generator room designed to support 24MW of backup generator power, and an underground fuel area that can hold up to 125,000 gallons of diesel.
The Texas-based Westland Bunker is a nuclear shelter turned data centre consisting of a four-story, 100,000 sq ft office building and a total of 140,000 sq ft of underground data centre space. The nuclear bunker was converted to the data centre in 2014.
9. Green Mountain Data Centers' DC1-Stavanger
DC1-Stavanger by Green Mountain Data Centers is a Tier III certified mountain hall data centre in a former high-security NATO ammunition storage facility built inside a mountain. With a total of 22,600m² of space available, The main data centre consists of 6 mountain halls, each with two-storey concrete buildings built within the mountain. The infrastructure has been designed to be expanded up to 2 x 26MW.
10. Bahnhof Pionen data centre
Resembling the lair of a James Bond villain, Bahnhof's Pionen data centre in Stockholm, Sweden is a former Cold War bunker located 30 metres under solid bedrock. It is said to be able to withstand the blast from a hydrogen bomb, and if, for any raeson, the power goes out, a back-up supply is provided by two German submarine engines. Inside there is a false waterfall, indoor jungle plants, fog, and a conference room with an image of the moon's surface on the floor.
Featured image: Pingdom