Upstack partners with Wyoming Hyperscale on new data centre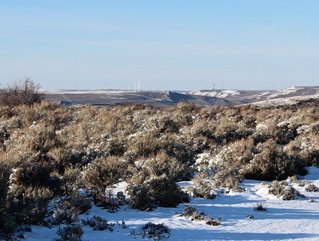 The data centre partnership between Upstack and Wyoming Hyperscale aims to promote ultra-green, liquid-cooled colocation for high-density computing tenants
Upstack, a fast-growing platform that transforms the way businesses design and select internet infrastructure solutions, announced today a strategic partnership with Wyoming Hyperscale White Box LLC, builders of the most advanced sustainable data centre in the United States.
With this partnership, Upstack advisors and customers will have early access to secure space in Wyoming Hyperscale's ground-breaking data centre cluster, located on 58 acres on the north ridgeline of Aspen Mountain, 11 miles southeast of Evanston, Wyo. The facility is under construction and expected to begin commissioning in the fourth quarter of 2022.
"We've tapped the industry's pre-eminent experts in every field to help us realise our goal to create the most sustainable high-density data centre," said Trenton Thornock, Founder and Managing Member of Wyoming Hyperscale.
"We chose UPSTACK as our strategic partner because of their advisors' vast data centre expertise and unmatched reputations for delivering trusted guidance to data centre solution decision-makers."
In addition, the company has invested in sustainable technologies and techniques, including:
Using liquid immersion cooling from Submer to reduce power consumption by 50 percent, increase cooling power efficiency by 95 percent and consume no water
Powering facilities direct from wind farm generation switchgear
Harvesting compute heat for use by a neighboring indoor farm owned and operated by the Thornock family
Installing nickel-zinc battery-based uninterruptible power supplies (UPS) for backup energy storage
"Simply put, Wyoming Hyperscale's approach to data centres hasn't been done before. The amount of computing power in a smaller footprint is simply amazing," said James Caulfield, Partner and Managing Director at UPSTACK. "We're excited to introduce customers to the data centre of the future – today – while also benefiting the environment and helping businesses execute against their corporate ESG initiatives."
Image: Wyoming Hyperscale