DevOpsCon Munich
Mon 04 Dec - Thu 07 Dec, 2023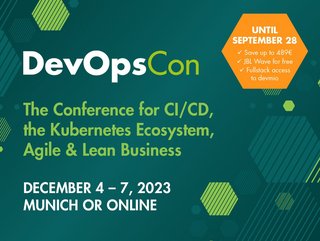 DevOpsCon Munich
The Conference for CI/CD, the Kubernetes Ecosystem, Agile & Lean Business
Join us at DevOpsCon Munich and immerse yourself in the transformative world of IT, where being a step ahead is crucial. DevOps, as a driving force, is fundamentally reshaping the industry and providing the roadmap for successful business transformation. At DevOpsCon Munich, you'll have the unique opportunity to not only explore but also deeply understand the latest tools that are currently revolutionising productivity in the ever-evolving IT landscape.
Boost your productivity by delving into the intricacies of seamless integration, where cloud platforms, micro-services, Kubernetes, and state-of-the-art automation converge to enable continuous delivery. Discover how to effectively navigate and conquer the rising complexities that organisations face in today's fast-paced digital ecosystem.
Not only this, but become inspired by engaging with a distinguished roster of internationally acclaimed thought leaders in the DevOps movement. This is an unmissable opportunity to not just stay ahead but thrive in the world of DevOps, all within the vibrant and culturally rich city of Munich.
Get your tickets today!