DevOpsCon New York
Mon 25 Sep - Thu 28 Sep, 2023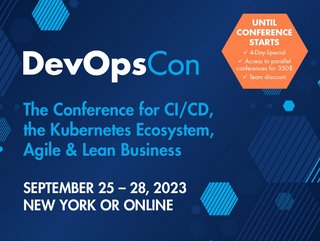 DevOpsCon New York
DevOps New York is part of a global conference series for DevOps & Business Transformation.
Join us at DevOpsCon and be a step ahead in the ever-evolving IT landscape. Discover how DevOps is reshaping the industry, paving the way for successful business transformation, and gain insights into the latest tools that are revolutionising productivity.
Boost your productivity by exploring the synergy between cloud platforms, micro-services, Kubernetes, and cutting-edge automation for continuous delivery. As well as, learn how to effectively navigate the rising complexities within your organisation.
Be inspired by engaging with internationally acclaimed thought leaders in the DevOps movement at DevOpsCon. Tap into their expertise and ignite your passion for innovation - get your ticket now!