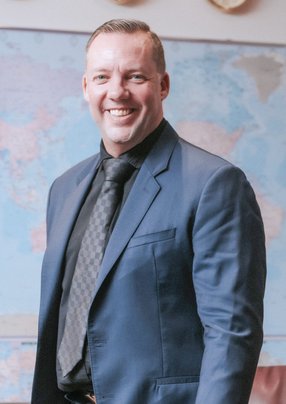 Jonathan Eaves

Jonathan Eaves, CEO of Australian data centre firm Edge Centres, discusses his background, experience, and even learning to fly to build his business
Jonathan Eaves is the Chief Executive Officer and Founder of Edge Centres, an Australian edge and off-grid data centre provider and his third data centre business. Although he works in the industry full time, he has a background in Mechanical Engineering, having got his degree from Newcastle University in the UK in 1995. He was an engineer at heart long before then, though, tinkering on cars as a teenager and helping his father – also an engineer – as a boy.
After eight years in the Merchant Navy, Eaves' leveraged his experience into a job as a Marine Engineer, before joining the team on the Disney Cruise Shop, where he ran its engine room for four years. His hobby has always been websites, having spent some time both building and hosting them.
He went on to start a website hosting company and ended up building his first data centre after running out of hosting space. "It was an interesting time," Eaves says. "Technology really hasn't moved far ‒ it's become a little bit more efficient but it's very much the same."
Prior to starting Edge Centres, Eaves worked in consulting and also was the Chief Technical Officer and later Chief Innovation Officer of the Dubai-based Data Hub, Moro, from 2017 to 2020.
Eaves says that a big part of the journey and mission that he's on today with Edge Centres is to change the way the edge is viewed, the way it's powered, and also the way it's cooled.
Building a business in the middle of a global pandemic
Eaves founded Edge Centres in February 2021, which meant that, to grow the business and get it off the ground, he would have to do so in the middle of a pandemic. He spent a lot of time travelling to potential sites in Asia and the US, which, at the time and for obvious reasons, posed quite the challenge.
"This was the hardest thing I've ever done. Starting in a pandemic was one thing but being able to travel to Grafton (Australia) was a whole different problem," as it was a three-hour drive from Eaves' house.
"And then the flash lockdowns would come and we were unable to travel," he recalls. To ensure the progress of his business didn't come to a halt, Eaves learnt to fly himself down Grafton, getting his private pilot's licence so that he could continue to get his boots on the ground and keep growing Edge Centres in spite of the pandemic.
"Travelling internationally would have been very different and much harder during this time," Eaves says. "The world was closed. For example, I flew back from America last August and there were 17 people on the whole plane. Travelling has definitely been an interesting experience for me, to say the least!"
The original strategy for Edge Centres was to build a series of data centres and edge locations across Australia. The plan was to build 18 in total, which Eaves says is still very much underway. But as the company grew, Eaves saw new opportunities emerge in APAC and the US, and decided to embark on further development.
Last year, Edge's operations were very much focused on its homeland of Australia. This year, the company will be working on its Asia rollout. At the time of writing, the company's most recent project is EC31, a data centre under construction in Kuala Lumpur alongside a network operations centre. The two facilities combined will be the cornerstone of Edge's APAC rollout, Eaves says.
Read the full story HERE.
"When they sign an agreement with us, our customers have secured an avenue to grow for decades, and we assume a strong long-term expansion capacity commitment while giving them the comfort of growing in the same location, with a trusted partner"