BT Wholesale: It's time to let go of on-prem data centres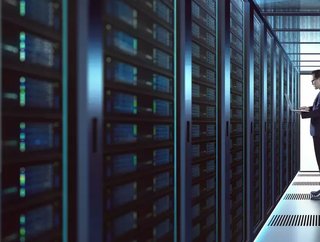 Ian Cottingham, Wholesale Specialist Director at BT Wholesale, explores why colocation offers a high-availability and cost-effective alternative to on-prem
We are living in a data-driven society. According to the IDC's Global Datasphere report, more data will be created in the next three years than has been created over the last 30, with the majority share of that data shifting from consumer to enterprise. So, it's not unreasonable to suggest that data centres could be viewed as the factories of the 21st century, optimising supply and demand in the global economy.
We're undergoing a shift in the way we store, manage, and retrieve data, however. Gartner predicts that 80% of enterprises will shut down their traditional data centres over the next five years – 10% have already done so. This is perhaps unsurprising, as maintaining resilient on-site data centres requires a huge amount of energy, investment, expertise, and space – costly for businesses of all sizes, and especially for SMEs that may only need small estates before expanding. It's for this reason, then, that colocation – where data centre space is rented from a third party – represents a flexible, reliable, and cost-effective alternative, but there are some factors to consider. 
Data located where it's most needed 
Keeping critical servers and data on-premises can be risky. After all, you wouldn't leave large sums of cash lying around your house. You can put it in a safe, but eventually you'll need another one – which is pricey and takes up precious room. It's not a sustainable way of scaling. Conversely, you could choose to put your cash in a specialist facility, like a bank, which you know has the security, space, and skills needed so you can easily and securely store, manage, and access your money, physically and digitally. The same should be true for an organisation's valuable data.
Colocation centres vary greatly between providers, with some located within internet exchanges while others are found in more traditional data centre facilities. With options available across the country, organisations can select ones close to where they actually need data to be. This ensures lower latency access which boosts experience and is critical in times of disaster recovery, for instance. 
Moreover, the growth of remote and hybrid working practices during the pandemic means many companies are now reviewing whether large central offices are as needed as they once were, and where data should be hosted for decentralised workforces to continue doing their roles most effectively. 
Indeed, a centralised on-premises setup – which takes up valuable space and requires consistently reliable power, cooling and connectivity – could now be impacting business performance if remote employees don't have the right connectivity and tools to access data seamlessly. 
Retaining full control
Wherever a colocation service is based, what should always be guaranteed is the business retaining full control and access. They must be provided the freedom to develop their own bespoke technology stack, so that architecture seamlessly fits with existing and future workflows. 
With this control comes the ability to effortlessly scale. With the demands of data-hungry workloads ever-increasing, businesses need to be confident that they have a data centre setup which can handle growing demands. Colocation provides affordable scalability, with extra headroom always available when it's most needed. That means no drop in performance and businesses can support growing customer bases and more data-heavy applications and solutions. 
Resilience, security and reducing emissions 
Given the value that data represents to a business, reliability, uptime, and security of their data centre is paramount. Therefore, another consideration for businesses looking to colocation is making sure they pick services that are supported by redundant power supplies, reliable and high bandwidth connectivity, as well as advanced network and physical security. You wouldn't trust a bank that is susceptible to regular power cuts meaning you couldn't always access your cash, or one that left its doors and networks open for criminals to exploit out of hours. Organisations must think of their data in the same way. 
Colocation services must offer around-the-clock connectivity and availability so businesses can depend on them 24/7. They must operate with redundant power supplies to offer resilience at all times, ensuring consistent access to critical data and mitigating downtime which is costly to an organisation on so many levels. High-bandwidth connectivity ensures that data flows freely in and out and that it can support increasing demand for data-hungry applications, as well as any short-term spikes. What's more, physical security and fire protection must be complimented with robust network security to keep data safe from all forms of criminal attacks.
How colocation centres are powered can also provide an avenue for organisations to operate more sustainably, helping them to achieve their own environmental, social, and governance (ESG) goals. If services are supplied by 100% renewable energy and providers also have their own additional reduction initiatives in-play, it all feeds into the UK's objective of being 'net zero' by 2050. 
Continuously evolving 
Ultimately, offering hosting without limits, colocation services have an important role in the spectrum of data centre options, and they should be the first choice for use cases which need a highly secure location coupled with resilient power and connectivity. By enabling organisations to rent the data centre space they need, they simply have to focus on building their own technology stack and ensuring a great experience for customers and employees.
Furthermore, colocation providers must consistently invest in and innovate their offering to remain compelling against other data centre options. They have to be flexible in the design of space, cooling, connectivity and sustainability, so that businesses have access to ever-more powerful and efficient colocation services. Just as banks have needed to move on from only dealing in cheques and possessing no digital presence, colocation services must keep evolving, which can only benefit organisations relying on them.