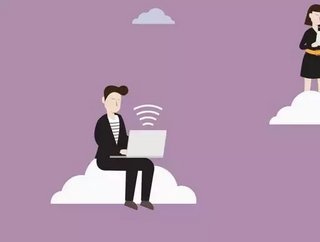 Industry experts reflect on the changing data centre landscape and the future of cloud...
The past year has had a profound impact on the pace and direction of digital transformation of the global economy. As we approach the anniversary of life in the age of COVID-19, the ongoing effects on the data centre industry have only become more pronounced. "Thanks to an exponential increase in demand for content delivery in entertainment, education and commerce, 2020 saw a huge spike in demand for data," says , global data centre leader at ABB. With lockdowns continuing to require millions of people to work from home, as well as increasing our collective reliance on digital services, data centres have become increasingly essential pieces of infrastructure. "They've been crucial to keeping businesses going and people connected," Johnson adds. 
The effects of the pandemic - twinned with the ongoing transformative influence of Industry 4.0 - have accelerated a global shift away from enterprise data centres towards the cloud. Over the past year, the data centre industry has split in two, as hyperscale and cloud platform providers have grown, and enterprise spending has fallen. With hyperscalers already scrambling to keep pace with growing demand, Johnson warns that the trend shouldn't be expected to slow down this year. "It's difficult to see this decreasing as we look ahead to 2021, as changes to the way we live, work and socialise are set to continue," he predicts. "Greater connectivity brought about by advances in 5G, including the launch of new 5G compatible devices like the iPhone 12, and greater use of AI and machine learning, is also set to have a huge impact on data centres."
As we enter 2021, Data Centre Magazine speaks with some of the leading figures in the data centre industry about emerging trends, challenges to be overcome, and the future of the cloud. 
Insatiable Demand
In a recent report, Gartner predicted that, after experiencing a in 2020, data centre spending will rebound in 2021. This year, total investment in new and ongoing projects is expected to grow by 6% to reach more than $200bn. The majority of the decline in 2020, noted Gartner senior research director , is due to larger enterprise data centre sites "hitting pause temporarily," before resuming in 2021. "However," he added, "hyperscalers will continue with their global expansion plans due to continued investments in public cloud." 
, research vice president at Gartner, noted in another industry report that, "The ability to use on-demand, scalable cloud models to achieve cost efficiency and business continuity is providing the impetus for organizations to rapidly accelerate their digital business transformation plans. The increased use of public cloud services has reinforced cloud adoption to be the 'new normal,' now more than ever."
, head of cloud architecture at Continent 8 Technologies, agrees with the assessment. With more than 60 data centres across Europe, APAC and North and South America, Continent 8 has experienced the global surge in cloud demand over the past 12 months, particularly driven by a spike in media consumption. "The use of public cloud services continues to grow," says Stafford, noting that customers increasingly seek out the comprehensive services that the public cloud provides in order to increase agility and reduce OpEx, as well as gaining access to quick burst capacity in order to handle spikes in demand. 
The ability to help customers respond to these spikes in demand for data services has been a hallmark of 2020. Johnson notes that, "this demand for data has resulted in a real shift in several areas – data centres have had to become increasingly agile to respond to different demand peaks, while maintaining high levels of security and sustainability." Across the board, however, increased digital transformation and technological innovation are continuing to mount pressure upon data centre operators; by 2026, 5G is expected to account for 54% of all mobile data traffic, reaching a total of 226 exabytes per month; the growth of the internet of things (IoT) is predicted to include 37bn connected connected devices by 2025; and the increased use of data centres for big data, artificial intelligence (AI) and machine learning based high performance computing (HPC) and quantum computing workloads. "And, as with all sectors, they have had to do this while its workforce adapts to new ways of working," adds Johnson. 
Handling AI, IoT, 5G and HPC
In tandem with the ongoing search for a "new normal" amid the COVID-19 pandemic, the influence of 5G rollouts, IoT expansion, and increasing adoption of AI and HPC solutions across the digital economy have the potential to put immense strain on cloud service providers and data centre operators. 
"Content delivery networks are going to require more and more storage with the roll-out of 5G, and more network speed to avoid latency," says Johnson. "We've seen TVs go to 4G, and YouTube is accepting 8G and 12G video already. Normal video is about 1G, so for every second that's 12,000 times more information. It's a tremendous amount of throughput, so the strain on the network will increase, and data centres will need to respond." 
Data centre operators in 2021 and beyond won't merely have to contend with the growing network load caused by 5G. According to , senior vice president of NVIDIA Networking, the effects of adopting the next generation of communications technology have the potential to be even more transformative. "Just like 4G spawned transformational change in transportation with Lyft and Uber, 5G will bring transformational new capabilities and business opportunities," he explains. "It won't happen all at once, but you'll start to see the beginnings of companies seeking to take advantage of the confluence of AI, 5G and new computing platforms."  
AI and HPC are also increasing the demands placed upon data centre operators, as increasingly complex IT loads are being moved to the cloud. Stafford notes that, so far, "the HPC Industry has been slow to embrace cloud," adding that because "HPC Infrastructure is expensive, complex to setup and maintain, right sizing that environment is a difficult process." However, he notes that cloud service providers have responded well to demand, and are starting to offer more solutions tailored to the HPC industry's needs, like "investment in specialised hardware and solutions, which can be consumed in multiple options such as spot instances, reserved instances and hosts to better control costs." 
Reaching Maturity
The pressures of the past year have thrown unprecedented challenges at consumers, enterprises alike. As data centre operators continue to respond and adapt to increased demand for data and cloud services in response to industry trends and the continuing pandemic, Johnson believes that the sector is reaching a new era of maturity. "As a result of our ever-increasing thirst for data, 2020 has seen a real maturing of the data centre landscape. It has grown from an 'IT support system' to an on-demand scalable service, a truly mission critical industry that enables economies to keep working and families to stay connected," he says, noting that, while this is creating new opportunities for data centre and cloud platform operators, these exciting new developments will also generate their share of challenges, "particularly in protecting against cyber threats and managing the impact of digital infrastructure on our planet." 
Stafford notes that, for all data centre customers, "moving to the cloud is a journey, not the destination." Much like its customer base, the data centre industry is on a journey from the enterprise to the cloud. Bill Fenick, vice president of enterprise at Interxion: A Digital Realty Company, reflects that, "There is a firm understanding that cloud is the future for almost all enterprises," adding that "There is no "one-size-fits-all" methodology – and indeed, a lot of trial and error."