Dr Wee Ka Siong criticised for Malaysia cabotage exemption
2 min
Malaysian Transport Minister Dr Wee Ka Siong has received criticism for revoking the cabotage exemption: here is a break down of what has happened so fa...
In November of last year, foreign ministers criticised Malaysian Transport Minister Dr Wee Ka Siong after he revoked the cabotage exemption agreement which would have allowed foreign ships to conduct undersea cable repairs in the country's waters.
The move to renounce the exemption came under fire due to the impact it will have on both internet quality and speed in Malaysia, with Dr Wee responding to questions from the former Transport Minister, Anthony Loke, sparking a debate in Parliament.
Announced by the former Transport Minister in 2019, the exemption's purpose was to speed up undersea cable repairs in Malaysia waters after it was requested Telekom Malaysia and Time Dotcom.
The questions included how many businesses in Malaysia can carry out underseas cable works and how long they would take to complete.
Several factors, according to Dr Siong, were taken into consideration when revoking the exemption, including the outflow of foreign money being reduced as well as the reduction of depedencies on foreign vessels by promoting the participation local shipping industries.
Dr Siong argued at the time that taking back the exemption "will help increase Malaysia's domestic shipping capacityand capabilities," whilst also "developing local technical expertise to ensure the security and sovereignty of Malaysian waters."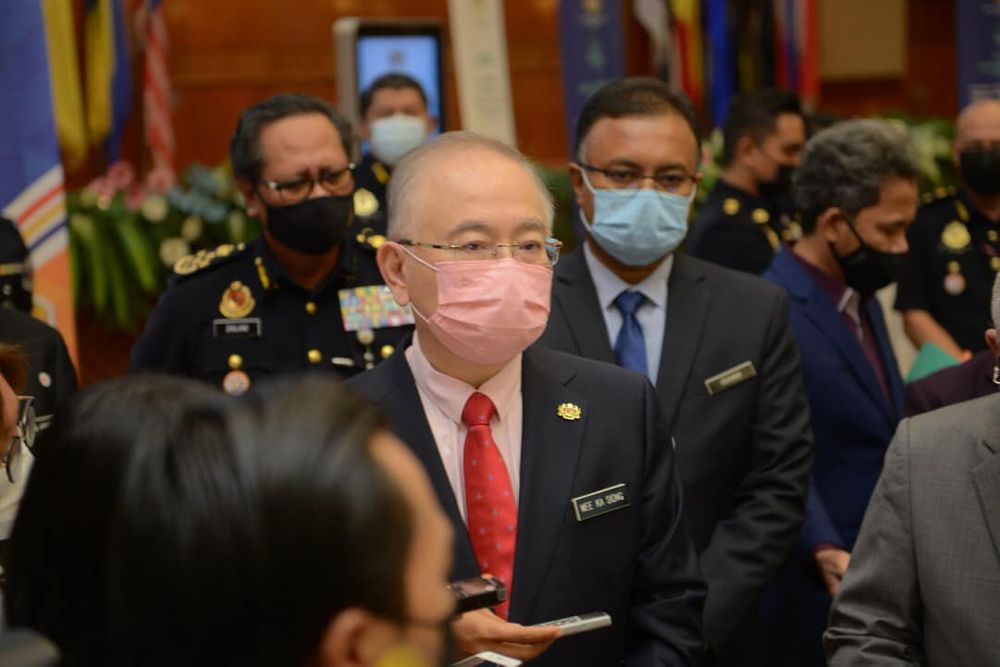 Dr Wee Ka Siong. Image: Dr Wee Ka Siong on Facebook
This news came before an announcement from social media conglomerate Facebook that it is installing "vital underseas cables" which will provide a connection between Singapore, Indonesia and North America, as part of its efforts to enable faster internet access.
In light of this development, Malaysia Internet Exchange (MyIX) is encouraging the Malaysian government to reconsider the cabotage exemption for foreign vessels or it may "risk losing out on more Foreign Direct Investments (FDIs) to neighbouring countries.
Chairman of Malaysia Internet Exchange, Chiew Kok Hin, said that Facebook's undersea project would be a "big win" for Singapore and Indonesia" but that it would be a "loss" for Malaysia.
Both Facebook and MyIX share their concerns over Dr Siong's decison on the exemption with other tech giants, Google and Microsoft, with it being introduced due to Malaysia not having the DP2 ships required to carry out cable repairs in its own waters.
In response to MyIX's statement regarding Facebook's undersea cable project being "a loss" for Malaysia and the location of the data centre, Dr Wee Ka Siong said that the accusation "didn't provide a clear picture of the actual situation" and that the data centre was built in Singapore "because Malaysia doesn't have the data centre infrastructure."
The Malaysian Transport minister criticised the Pakatan Harapan government in a Facebook post about the location of the data centre on 5 April 2021.
Inside the future of Ireland's subsea cable landscape
4 min
Meet the industry experts sitting down to discuss subsea cabling, digital transformation, Data Gravity, and the fate of Ireland's digital economy. 
On Tuesday, June 15, 2021, experts from Aqua Comms, GTT, euNetworks, the IDA, and European data centre leader Interxion will take part in a virtual panel to explore the evolving relationship between subsea cabling, digital transformation, Data Gravity and the future of Ireland's digital economy. 
You can tune in to the event, which is taking place between 10:30 PM - 11:30 PM JST on Tuesday, here - or view it later on-demand. The hour-long panel will also conclude with a 20 minute Q&A session with the audience, moderated by Interxion's Senior Director of Market Development, Mike Hollands. 
The Gateway to Europe
Since the first transatlantic cable was laid in 1858, briefly connecting Newfoundland and Valentia Island in County Kerry, Ireland has served as a critical gateway for North American organisations looking to gain access to Europe. 
Today, some of the largest firms in the world, like Pfizer, Janssen, Zurich, Metlife, Google and VmWare use Ireland for their European Headquarters. The combination of an English-speaking workforce (a boon made all the more important as Brexit makes the UK and the north of Ireland an increasingly complex environment that provides diminishing opportunities to access the rest of Europe), a cultural and regulatory landscape that welcomes foreign investment, and world-class connectivity makes the country an unparalleled choice for firms looking to establish a foothold in the EU. 
As a result, Ireland has become one of the world's leading data centre hubs. And, thanks to the exponential growth of Data Gravity, and the increasingly essential nature of digital infrastructure, Ireland's role as a launchpad into Europe is only likely to grow more prominent.  
The future of Ireland's digital economy is, experts from Interxion argue, closely linked to its ability to provide connectivity between Europe and North America. The further development of the country's subsea cable industry will form the keystone of the discussion being held on Tuesday, as experts from throughout the industry share their insights into the challenges and opportunities that face operators working towards a more connected future for Ireland. 
Meet the Experts 
On Tuesday, speakers from the IDA, Aqua Comms, GTT Communications, euNetworks, and Interxion will discuss key themes, including key facts about Ireland's existing subsea infrastructure, plans for the future of the industry, the challenges that need to be overcome, the interaction between subsea and terrestrial networks, and the next steps in Ireland's role as the gateway to Europe. 
Ciarán Delaney
Ciarán Delaney has served as the VP of Operations and Optical Engineering at GTT since 2017. With more than 10 years worth of experience in the telecoms industry, he's a leading expert on transatlantic connectivity, with an in-depth knowledge of both submarine and terrestrial cable systems.  
Nigel Bayliff 
Currently serving as the CEO and Director of the Board at Irish submarine cable firm Aquacomms, Nigel Bayliff has more than 30 years of experience in the telecom infrastructure market. His past roles have granted him unique perspectives gained from buying, building and running international submarine cable networks as an operator as well as developing and implementing cables as a constructor. 
Toby Williams
As the Head of Infrastructure Investment at euNetworks, Toby Williams has spent over a decade developing digital infrastructure throughout Europe, Ireland, and the UK. He has also done extensive work developing dark fibre networks, which are a key component in providing the agility and capacity necessary for operators to overcome the challenges posed by Data gravity. 
Shane Nolan
The Irish Investment Development Agency (IDA) is one of the key drivers of overseas investment in the country, and is responsible for the attraction and development of foreign investment in Ireland. Shane Nolan has worked in various roles throughout the IDA for more than 18 years, and is currently serving as the organisation's Head of Technology & Emerging Business. 
Mike Hollands 
Interxion: A Digital Realty Company, is one of Europe's leading data centre operators and, as part of Digital Realty's Platform DIGITAL, is taking a leading role in raising awareness of the threat posed by Data Gravity. Mike Hollands has served as Interxion's Senior Director of Marketing Development & Strategy since 2017, and is a 15 year veteran of the industry. At Tuesday's event, he will serve as moderator, guiding the discussion surrounding the evolution of Ireland's role as a gateway to Europe and regional data centre and subsea cabling hub.