NVIDIA unveils an AI-powered 'data centre in a box'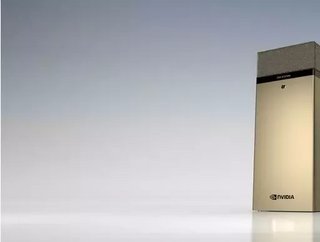 The NVIDIA DGX Station A100 is the world's only petascale workgroup server, designed to accelerate ML and data science workloads...
Chipmaker and data centre hardware manufacturer NVIDIA has launched a new solution. The DGX Station A100 includes artificial intelligence (AI) capabilities designed to accelerate HPC, machine learning and data science workloads. 
The station is, according to NVIDIA, the only petascale workgroup server on the market today, and houses four of NVIDIA's A100 Tensor Core GPUs, which provide up to 320GB of GPU memory. The system also provides multi-instance virtual clones of its GPUs, allowing up to 28 separate GPU instances "to run parallel jobs and support multiple users without impacting system performance." 
With an emphasis on portability, the DGX Station A100 can be deployed across corporate offices, research facilities, labs or home offices.
NVIDIA is pitching the solution as an AI grade supercomputer available anywhere. "While DGX Station A100 does not require data-center-grade power or cooling, it is a server-class system that features the same remote management capabilities as data center systems," noted the company in a press statement, adding that system administrators can use the DGX A100 to easily perform remote tasks with a distributed user base. 
"DGX Station A100 brings AI out of the data center with a server-class system that can plug in anywhere," said . "Teams of data science and AI researchers can accelerate their work using the same software stack as NVIDIA DGX A100 systems, enabling them to easily scale from development to deployment."
NVIDIA also announced that several leading enterprises have already adopted the DGX Station to support data science workloads in the education, financial services, government, healthcare and retail sectors. 
Among them, BMW Group is using the data centre to more quickly generate and analyse insights into its AI models. The German Research Center for Artificial Intelligence (DFKI), and defence contractor Lockheed Martin are both using the DGX Stations to build better operational models. And Japanese telecom NTT Docomo is using the equipment to "develop innovative AI-driven services such as its image recognition solution."