Samsung starts mass production of new data centre SSD line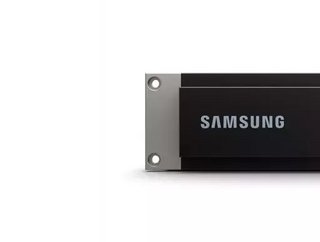 The new line of solid state drives is fully compatible with open compute principles and delivers higher performance and power efficiency...
Samsung has launched a new top-of-the-line range of solid state drives (SSDs) designed to support high density compute workloads in enterprise and hyperscale data centres.
"Wider 5G deployment and accelerating growth in IoT devices are fueling a hyperconnected lifestyle, driving the demand for more sophisticated hyperscale data centers," commented Cheolmin Park, vice president of Memory Product Planning at Samsung Electronics. 
"Providing an optimal mix of performance, power, reliability and firmware, we believe our new PM9A3 will help advance today's data center storage technologies and expand the market for OCP-compliant SSDs."
The PM9A3 is built using Samsung's sixth-generation (1xx-layer) V-NAND and delivers significant performance improvements over the previous generation, delivering double the sequential write speed at 3000MB/s, a 40% higher random read speed of 750K IOPS and 150% higher random writes at 160K IOPS. 
The new SSDs are also significantly more efficient in terms of energy consumption. The PM9A3 can reportedly run at a rate of 283MB/s per watt for sequential writes, which makes the drive almost 50% more efficient than the previous generation's 188MB/s per watt rate. 
The PM9A3 E1.S. - Image courtesy of Samsung Electronics
Samsung also notes that, if you replaced all the hard disk drives put into use in 2020 with its new PM9A3 4TB drive, power savings would amount to approximately 1,484 gigawatt hours of energy - more than you'd need to power all the households in the Korean capital of Seoul during the month of August last year.      
The PM9A3 has also been designed in accordance with the exacting principles of efficiency, modularity and standardisation set by the Open Compute Project. The OCP is a spin off of a Facebook data centre design project started in 2011, which counts Intel, Rackspace, and Goldman Sachs among its founding members. 
The unified, interoperable standards set by the OCP's NVMe Cloud SSD Specification will let operators who incorporate Samsung's new SSD into their systems to do so more easily, and achieve reduced CapEx and OpEx as a result. 
"Innovations such as the OCP NVMe Cloud SSD and E1.S are important to solving today's data center challenges. The OCP NVMe Cloud SSD Specification defines hyperscale SSD requirements, enabling SSD makers to provide leading-edge products that meet the challenging demands of hyperscale environments. Deploying storage at scale is very challenging and Samsung's support for next-generation industry-leading technologies such as the OCP NVMe Cloud SSD and EDSFF E1.S is a great step forward," said Ross Stenfort, Hardware Storage Engineer at Facebook.