Top 10 hybrid cloud solutions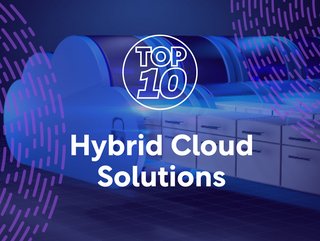 Data Centre Magazine considers some of the leading companies within the hybrid cloud space and the solutions that they offer to assist businesses
Data Centre Magazine considers companies that are committed to offering the leading hybrid cloud solutions within the data centre sector
Hybrid cloud environments ultimately work to create new digital possibilities, whilst opening the door to cost-effective scalability, flexibility and modernisation. A business is able to better save money whilst simultaneously increasing their speed and agility.
Businesses are migrating to the cloud faster than ever before, with spending on cloud computing accounting for 33% of IT spend in 2020 and anticipated to grow to 45% by 2024, according to Gartner. Even data centres are expected to transition to hybrid models of air cooling in the near future to improve efficiency, performance and sustainability.
Data Centre Magazine considers some of the leading companies within the hybrid cloud space and the solutions that they offer to assist businesses - especially those within the data centre industry - with their digital strategies.
HPE GreenLake offers a portfolio of cloud and as-a-service solutions that help simplify and accelerate business transformation. According to the company's research, 60% of IT leaders rely on hybrid cloud to provide a flexible operating environment and so it has worked to deliver a multi-gen IT solution.
It works to deliver a cloud experience across apps and data, considering edge, data centre, colos and public clouds. Available on a pay-as-you-go basis,1 HPE GreenLake runs on an open and more secure edge-to-cloud platform with the flexibility that users need to open up new opportunities.
OVHCloud is a French cloud computing company which offers VPS, dedicated servers and other web services. In 2016, OVH owned the world's largest data centre in surface area and as of 2019 it was the largest hosting provider in Europe and the third largest in the world based on physical servers.
With secure links to OVHcloud Public Cloud, Hosted Private Cloud and dedicated bare-metal servers, businesses are able to have a foundation with which to create their own sophisticated multi-cloud architecture. Additionally, a dedicated link to its fibre-optic network between data centres provides high availability across all regions and is completely isolated from public internet access.
Nutanix hybrid multi-cloud enables businesses to meet cloud needs by extending an on-premises environment seamlessly into the public cloud, making it more agile, scalable, efficient and cost effective.
Its hybrid multi-cloud environment is a single console that spans private, distributed and public clouds to manage traditional and modern applications. Users can mitigate their applications and data across on-premises and hosted private clouds and supported public clouds without any lock in, as well as being able to manage applications from anywhere on any device.
NetApp services aim to provide seamless storage, effortless data management and unparalleled ransomware protection, whilst safeguarding business-critical operations from core infrastructure to all major cloud providers.
NetApp helps businesses leverage the cloud for faster, more dynamic delivery of services and frictionless data movement. Data management and storage solutions integrate with the world's leading cloud providers to offer one consistent environment, unified data services and centralised management that enables visibility both on premises and in the cloud. Its BlueXP platform enables the user to do all this from a unified control plane.
Global enterprises trust Red Hat's broad portfolio of hybrid cloud infrastructure, application services, cloud-native application development and automation solutions to deliver IT services on any infrastructure quickly and cost effectively. For 30 years, the company has worked within open source communities and contributed code and more to develop software for enterprise requirements.
Red Hat Enterprise Linux is a Linux distribution developed by Red Hat for the commercial market. It is an open source operating system that has helped revolutionise data centre operations by enabling major public clouds and continuing to power new cloud-native initiatives.
Key facts
3,000 virtual desktops launched with VMware Horizon

8x faster time to market achieved with Tanza Labs

30% cost reduction with new container infrastructure
VMware hybrid cloud delivers a consistent foundation for digital businesses. It is based on the VMware Cloud Foundation which aims to deliver virtualised and software-defined data centre (SDDC) technology everywhere that enterprises manage workloads.
The company provides a single operating model for all applications and is based on the most proven and widely deployed cloud infrastructure.
Oracle Cloud offers a distributed cloud that can be tailored to business needs and delivers complete cloud services around the world, across clouds, or in data centres. The company offers direct database integration with Microsoft Azure, as well as high performance interconnection, to make multiple clouds work as one.
The company offers one of the only cloud environments with a consistent set of services and consistent low prices across commercial and government clouds. With respect to hybrid cloud services, it offers solutions for nearly any location, including Oracle Exadata Cloud@Customer - a highly optimised database as a service that has been deployed in more than 60 countries.
AWS hybrid cloud services deliver a consistent experience wherever needed – from the cloud, to on premises and at the edge. The company has a wide range of hybrid solutions to suit business needs and control their infrastructure alongside AWS. These include helping with data centre extension needs, including use cases such as cloud bursting, hybrid data processing, backup and disaster recovery.
Businesses can also use AWS Solutions for both hybrid and multi-cloud to simplify and centralise the management of resources across hybrid and edge environments with resources on other clouds.
Google Cloud solutions can help improve enterprise efficiency and agility, reduce cost, help to participate in new business models and capture new market opportunities. Users can use its services to migrate and modernise workloads on Google's secure global infrastructure.
It can also help businesses with their data centre migration to cloud, or to a new more secure cloud. Offering full visibility into its system, Google Cloud helps minimise threats and secures data across data centres, hardware and network cables.
Google Cloud also runs the same products and services that support more than one billion users without compromising performance and enables enterprises to grow. It also enables businesses to modernise their systems at their own space, providing the option to either build, manage and run modern hybrid applications on existing on-premises hardware, or in multiple public clouds with Anthos.
Azure aims to provide a seamless and more secure approach for businesses to innovate anywhere whilst on-premises, or within multi-cloud and edge environments. Enterprises can enable remote work, take advantage of cloud innovation and better maximise existing on-premises investments by relying on a hybrid and multi-cloud approach.
With tools like Azure Stack Hub and Azure Stack HCI, users can build and deploy cloud-native apps in their own data centre, as well as consolidate on-premises virtualised apps on cloud-connected hyper-converged infrastructure. The company offers a wide range of use cases to manage and govern data, as well as ensuring that it is secure whilst making efforts to expand.
It was announced in October 2023 that, following Microsoft's partnership with Oracle (see above), Amdocs will also be working to enable the migration of its applications to Azure. This will allow Amdocs customers to integrate their classic applications with Azure services.
******
For more insights into the world of Data Centre - check out the latest edition of Data Centre Magazine and be sure to follow us on LinkedIn & Twitter.
Other magazines that may be of interest - Mobile Magazine.
Please also check out our upcoming event - Cloud and 5G LIVE on October 11 and 12 2023.
******
BizClik is a global provider of B2B digital media platforms that cover Executive Communities for CEOs, CFOs, CMOs, Sustainability leaders, Procurement & Supply Chain leaders, Technology & AI leaders, Cyber leaders, FinTech & InsurTech leaders as well as covering industries such as Manufacturing, Mining, Energy, EV, Construction, Healthcare and Food.
BizClik – based in London, Dubai, and New York – offers services such as content creation, advertising & sponsorship solutions, webinars & events.