A month to go until AI & Big Data Expo Europe in Amsterdam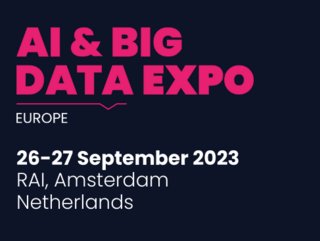 The AI & Big Data Expo Europe will take place from 26-27 September at the renowned RAI Amsterdam. Credit: TechEx
The AI & Big Data Expo Europe will take place from 26-27 September at the renowned RAI, Amsterdam
More than 6,000 attendees are set to flock to one of the leading thriving tech hubs in Europe for a showcase of next-generation technologies and strategies from the world of Artificial Intelligence and big data.
The AI & Big Data Expo Europe will take place from 26-27 September at the renowned RAI Amsterdam at the heart of the Dutch capital.
Across the two-day event, industry leaders, experts, and enthusiasts from around the world will gather to explore and celebrate the latest advancements in AI and big data technologies.
Those who register before 28 August can save 15% off paid tickets.
The AI & Big Data Expo Europe: 'An unparalleled experience'
"The AI & Big Data Expo promises to be an unparalleled experience for all attendees, it will feature keynote presentations, panel discussions, hands-on workshops, and an extensive exhibition floor with top-tier companies showcasing their pioneering products and services." said Olivia Reid, Head of Operations at TechEx Events.
The AI & Big Data Expo presents a unique opportunity for attendees to gain valuable insights into the rapidly evolving fields of AI and big data, and aims to showcase the transformative power of these cutting-edge technologies across various industries, including the likes of healthcare, finance, retail and transport. The agenda for 2023 includes a host of great speakers from leading companies and talks on a range of hot topics, with speakers including Aoibhinn Reddington, Head of Strategy for AI Powered Operations at Deloitte.
The expo will also facilitate networking opportunities, with the event app enabling participants to connect with like-minded professionals, potential partners, and investors. Paid ticket holders will be able to attend the event networking party on the evening of day one of the expo at the Strandzuid Boathouse.
To register for the AI & Big Data Expo, click here.
What to look out for at the AI & Big Data Expo Europe in Amsterdam
Key topics at the AI & Big Data Expo Europe 2023 include responsible AI, Ethical AI, AI against hackers, AI-led personalisation, data monetisation, data quality management, enterprise adoption of AI, the augmented workforce, the rise of AIOps and embracing AI to drive digital transformation.
Among the data centre leaders speaking at the event are Kristian Kofoed-Solheim, Nordic Business Development Director at Bulk Data Centres and Global Director Cloud, High Performance Computing & AI at atNorth Guy D'Hauwers.
Kofoed-Solheim, responsible for expanding Bulk's data centre customer base across the Nordic region, has more than 15 years of experience spanning across both the telecoms and data centre sectors, and works to bridge the gap between these two sectors in the Nordic region. He is speaking on day one of the event on applied digital, data and A&I at 11am for the presentation titled Future-proofing your digital infrastructure to overcome unsustainable data practices.
The following day, D'Hauwers - who has a keen interest in how AI can be harnessed to make a better world - steps up under the topic of transformational AI at 11:05am, where he will lead the Driving AI Innovation: Unveiling the Nordic Potential presentation.
******
For more insights into the world of Data Centre - check out the latest edition of Data Centre Magazine and be sure to follow us on LinkedIn & Twitter.
Other magazines that may be of interest - Mobile Magazine.
Please also check out our upcoming event - Cloud and 5G LIVE on October 11 and 12 2023.
******
BizClik is a global provider of B2B digital media platforms that cover Executive Communities for CEOs, CFOs, CMOs, Sustainability leaders, Procurement & Supply Chain leaders, Technology & AI leaders, Cyber leaders, FinTech & InsurTech leaders as well as covering industries such as Manufacturing, Mining, Energy, EV, Construction, Healthcare and Food.
BizClik – based in London, Dubai, and New York – offers services such as content creation, advertising & sponsorship solutions, webinars & events.