Top 10 global hyperscale data centre sustainability leaders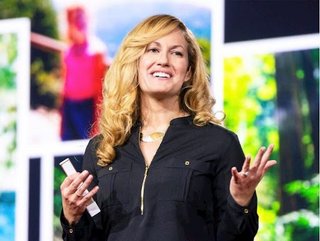 From Microsoft to Digital Realty, and CSOs to ESG leaders, find out who's made our list of the Top 10 data centre and cloud sustainability leaders
The question of sustainability is at the forefront of everyone's minds. Companies in all sectors, across every industry, are working to enhance their sustainability standards - not only to fulfil their own sense of corporate responsibility, but to ensure they retain their customer base, and so, successfully future-proof their operations.
Thankfully, with the exceptional talent of these sustainability pioneers behind us, it's clear that the data centre industry is in safe hands.
Keep reading to find our round-up of the top 10 sustainability leaders working in the data centre and cloud sectors.
1 Jennifer Ruch
Role: Senior Director, Sustainability & ESG

Company: Equinix
Jennifer Ruch has been working with Equinix for almost 10 years, and has held the role of Senior Director of Sustainability and ESG for the last 5 months.
She currently leads Equinix's Sustainability Program Office at Equinix - and, when you're working at the scale of the world's leading digital infrastructure company and a Fortune 500 data centre giant, sustainability initiatives will have a paramount global influence.
During her 14+ years of experience in sustainability, Ruch has worked in the fields of sustainability reporting frameworks, climate change and greenhouse gas reduction strategies, and renewable energy and electricity procurement.
2 Aaron Binkley
Role: VP Sustainability

Company: Digital Realty
Digital Realty recently announced that it has reached 1GW of certified sustainable capacity, the first data centre in the world to successfully achieve this milestone.
And, one of the key people behind this landmark achievement, is Aaron Binkley, Digital Realty's Vice President of Sustainability.
Binkley has worked with Digital Realty for almost 8 years, leading the company's global ESG programs. These include target-setting and strategy development, in areas including renewable energy, ESG reporting, green buildings, energy and water efficiency.
3 Amanda Sutton
Role: Senior Director of Sustainability

Company: Vantage Data Centres
Amanda Sutton currently heads up the development and integration of global sustainability and greenhouse gas emission reduction strategies at Vantage Data Centers.
Sutton has 16+ years of experience integrating sustainability into business. Before working with Vantage Data Centres, Sutton held sustainability leadership roles at Denver International Airport and Boulder County Public Health.
4 Tin Fong
Role: VP Energy & Sustainability

Company: Stack Infrastructure
Tin Fong has been working with Stack Infrastructure for over a year, managing and implementing its sustainable energy initiatives.
His role involves energy supply and renewable energy procurement, carbon reduction management, and energy efficient power system engineering.
Prior to joining Stack, Fong has also held senior sustainability roles with Equinix and Starbucks.
5 Kate Brandt
Role: Chief Sustainability Officer

Company: Google
It doesn't get much bigger than this - Google's Chief Sustainability Officer is about as high up the sustainability ladder as you can get.
Kate Brandt has been working in Google's sustainability team for over 7 years, starting out as the Lead for Sustainability.
She has also been an Adjunct Professor in the Change Leadership for Sustainability Program at Stanford University, and was the Federal Chief Sustainability Officer at the White House, no less.
6 Garry Cornell
Role: Head of Environment and Sustainability

Company: Yondr Group
Garry Cornell has worked in a wide variety of sustainability roles, having been a lead environmental Assessor and a Freelance Environmental Management Specialist, before joining Yondr as their Group Head of Environment and Sustainability in 2019.
7 Faith Taylor
Role: Global Sustainability Officer

Company: Kyndryl
Earlier this year, Faith Taylor joined Kyndryl, to help the company develop its global sustainability goals and programme. Within her career, Taylor has worked with companies to develop proactive sustainable solutions, and build diverse teams.
As a result of her extensive expertise, Taylor is recognised across the industry as a thought leader and subject matter expert in the fields of diversity, corporate social responsibility (CSR), and Environmental, Social, Governance (ESG).
Before working with Kyndryl, Taylor also held the awe-inspiring role of Global Environmental Social Governance Leader at Tesla.
8 Dr Lucas Joppa
Role: Chief Environmental Officer

Company: Microsoft
Dr Lucas Joppa is Microsoft's first ever Chief Environmental Officer. He has also been recognised as one of Fortune's 40 Under 40.
His background lies in the fields of data and environmental sciences, and is adept at deploying advanced technology to implement pioneering sustainability strategies.
Currently, Dr Joppa is leading Microsoft's targets to reach the statuses of zero waste, water positive and carbon negative. He also founded Microsoft's AI for Earth programme.
9 Travis Wright
Role: Vice President of Energy and Sustainability

Company: QTS
Travis Wright joined QTS over 8 years ago, and took on the role of VP of Energy and Sustainability 4 years later.
Alongside his 24+ years of energy efficiency and management experience, Wright also has 18+ years of critical facility management experience in the semiconductor industry.
10 Jon Chorley
Role: Chief Sustainability Officer and Group Vice President of SCM Strategy

Company: Oracle
With over 25 years working at Oracle, very few can boast this level of sustainability expertise.
Alongside his role as Chief Sustainability Officer, Jon Chorley also has the joint role of heading the development of Oracle's product value chain solutions.