VIRTUS expansion continues with 300MW megacampus project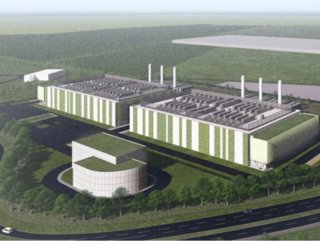 An example CGI of the VIRTUS Wustermark Campus, which is expected to be operational by 2026. Credit: VIRTUS Data Centres
VIRTUS Data Centres is calling its latest €3bn (US$3.2bn) facility in Brandenburg Germany a "landmark in green data innovation and AI real estate"
A growing green data centre company is expanding its presence further into mainland Europe with the announcement of its latest megacampus project.
VIRTUS Data Centres, which has four campuses in the UK, has unveiled plans for its second project in Berlin, Germany, just 12km from the city limits.
The VIRTUS Wustermark Data Centre Campus is a new benchmark in mega scale data centre capacity for cloud and AI in Europe, VIRTUS says, with an innovative approach to the use of sustainable power, waste heat re-use and technology.
Phase I of the Wustermark Campus, which covers more than 350,000sqm and boasts 300MW of incoming power across two campus locations, is expected to be operational by 2026.
VIRTUS says their latest iteration is poised to become one of Germany's and Europe's largest scale green data centre campuses, a demonstration of VIRTUS continuing commitment to raising the bar in terms of scale and sustainability across Europe, as it has achieved in the UK. The development includes a strategic collaboration with the grid operator to use renewable energy at a key renewable energy grid supply point, which reinforces VIRTUS' commitment to sustainability and green power initiatives, and marks a significant step in VIRTUS' journey towards the goal of achieving net zero emissions on all reportable activities by 2030.
The VIRTUS Wustermark Data Centre Campus is a "commitment to sustainable innovation"
Christina Mertens, Vice President of Business Development, EMEA, said: "This ambitious undertaking is VIRTUS' second site in the Berlin Brandenburg region and follows hot on the heels of the announcement of our Berlin Marienpark Campus in May 2023.
"It shows our commitment to sustainable innovation and dedication to meeting the evolving cloud and AI needs of our customers with another campus powered by cost efficient renewable energy, capable of growing to massive scale. As we take this step, we are proud to contribute to the vibrant data centre landscape of Berlin Brandenburg and reinforce our position as an industry leader, continuing our journey as a catalyst for transformative change."
Sitting adjacent to a major and important sub-station, the campus capitalises on electrical coupling to some of the largest contiguous onshore wind farms in the country that contribute to its power supply. VIRTUS says the availability of renewable options and scale of facilities in the Wustermark area will support its ambitions in this space.
As part of the development, VIRTUS will make the waste heat of the campus available to the local municipality and support their project to deliver a future district heating distribution network for Wustermark.
Holger Schreiber, the Mayor of Wustermark said the VIRTUS Wustermark Campus"not only demonstrates technological innovation, but also shows the potential for sustainable economic growth".
State-of-the-art technology at the VIRTUS Wustermark Campus
To ensure operational excellence and the delivery of scale and flexibility to meet the demands of new AI and ML workloads, the VIRTUS Wustermark Campus is designed with the distinct purpose of supporting the growing demands of hyperscale, government and enterprise customers. The campus is primed to cater for the ever-expanding server computer density that is required by cloud computing and generative AI applications. VIRTUS says it continues to invest and innovate so its customers have access to the latest technologies.
VIRTUS' growth so far
VIRTUS is a trusted global leader in the data centre industry and a leading UK data centre company, committed to delivering reliable, resilient and responsible digital infrastructure for our customers. VIRTUS is part of ST Telemedia Global Data Centres, which operates across Singapore, the UK, India, Thailand, South Korea, Indonesia, Japan and the Philippines, providing businesses an exceptional foundation that is built for their growth anywhere.
VIRTUS has a proven track record of more than a decade of designing and operating the UK's most efficient facilities. The company is headed up by Neil Cresswell - who joined as CEO in 2013 - who has more than 35 years of experience in the data centre, technology and banking industries.
******
For more insights into the world of Data Centre - check out the latest edition of Data Centre Magazine and be sure to follow us on LinkedIn & Twitter.
Other magazines that may be of interest - Mobile Magazine.
Please also check out our upcoming event - Cloud and 5G LIVE on October 11 and 12 2023.
******
BizClik is a global provider of B2B digital media platforms that cover Executive Communities for CEOs, CFOs, CMOs, Sustainability leaders, Procurement & Supply Chain leaders, Technology & AI leaders, Cyber leaders, FinTech & InsurTech leaders as well as covering industries such as Manufacturing, Mining, Energy, EV, Construction, Healthcare and Food.
BizClik – based in London, Dubai, and New York – offers services such as content creation, advertising & sponsorship solutions, webinars & events.