What AirTrunk's new HKG2 data centre means for Hong Kong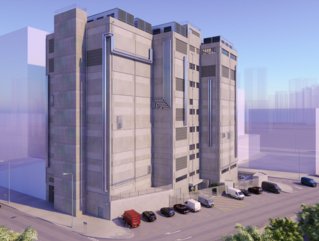 HKG2 complements HKG1 which opened in late 2020. Credit: AirTrunk
AirTrunk's planned new Hong Kong data centre will be scalable to 15MW and initial capacity is expected to be delivered to the anchor tenant in mid-2024
A hyperscale data centre specialist in the APJ region has announced plans for a new facility to accompany its existing infrastructure and play an "important role" in supporting the "huge demand" for cloud services and critical digital infrastructure in Hong Kong.
AirTrunk's second Hong Kong data centre HKG2, plans for which were announced last week, will support the demand for critical digital infrastructure in the region and drive digitalisation, the company says.
The APAC hyperscale data centre specialist's planned facility will become the tenth data centre in AirTrunk's APJ platform that includes data centres in Australia, Japan, Singapore and Malaysia.
HGK2 to play important role in meeting Hong Kong's data centre demand
Located in East New Territories, HKG2 will be scalable to over 15MW and initial capacity is expected to be delivered to the anchor tenant in mid-2024.
HKG2 complements HKG1 which provides location diversity for AirTrunk's large technology customers. The facility opened in 2020 in the West New Territories and, with HKG2, will give AirTrunk a capacity of more than 35MW in Hong Kong.
This comes after AirTrunk, along with CLP Power, pioneered a first-of-its-kind renewable energy solution in Hong Kong at HKG1 data centre in November. The solution matches Microsoft's data centre electricity consumption with local RECs.
HKG2 will be designed with future industry targets in mind – as well as boasting renewable sourcing options, the facility will deliver net zero emissions by 2030 as part of AirTrunk's emissions commitments and will be designed to an industry-low power usage effectiveness of 1.25.
AirTrunk Deputy CEO, Michael Juniper, said: "As a key international business hub, Hong Kong has ambitions to accelerate the development of a digital economy. Combined with the rapid rise of AI, there is huge demand for cloud services and the supporting critical digital infrastructure. HKG2 will play an important role in responding to this demand."
Hong Kong: A booming data centre region in APJ
According to research by Mordor Intelligence, the Hong Kong data centre market size is expected to grow from US$3.bn in 2023 to US$5.7bn by 2028. With its low tax rates and electricity costs, Hong Kong is one of the critical data centre locations in the Asia-Pacific region, attracting investments worldwide to support the growth of data centres in the country.
HKG2 will be a retrofit of an existing building and designed to meet security requirements. AirTrunk plans for the site to enable international connectivity with direct and low latency access to Greater China and neighbouring Northeast Asian countries.
AirTrunk Head of Hong Kong, KC Li, added: "The development of HKG2 will bring significant benefits to the Hong Kong economy, including the creation of new jobs, enablement of public cloud, sustainable innovation as well as community contributions."
This week AirTrunk broke ground on the third phase of a 300+MW data centre in East Tokyo called TOK1. The development of the purpose-built 55+MW building comes less than four months after breaking ground on a 50+MW phase at TOK2 in West Tokyo. In honour of the land the facility sits on, a traditional jichinsai groundbreaking ceremony was held to spiritually purify the site.
Despite only being formed in 2015, AirTrunk is the largest data centre platform in APJ – excluding China – and has further planned sites including SYD3 in Sydney West, and JHB1 Johor Bahru in Malaysia.