Data centres are drinking the desert dry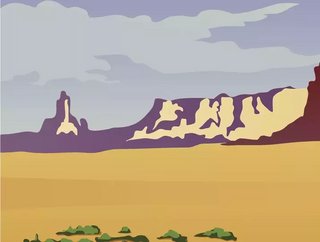 Cities across the world are welcoming data centre developments, but critics warn of hyperscalers' unsustainable water consumption.
A hyperscale data centre can be a huge economic boon to the local economy. There are the immediate construction and engineering jobs that pop up during the project, followed by long-term, high paying jobs going to those people who operate, maintain, and keep the facilities secure. At least, that's the narrative presented by both data centre companies and local governments. 
It's no great shock that, with every new hyperscale announcement comes a gushingly positive response from local government officials. When Facebook announced a 900,000 square foot expansion to its hyperscale campus in Eagle Mountain, Utah, earlier this year, the state's Governor, Spencer Cox, called the massive campus "a tremendous boon to the local economy," adding that he was "extremely grateful for Facebook's ongoing investment in [Utah]."
When Microsoft announced a new cloud region in the South East of the US, the mayors of the three counties selected to host the region were trotted out to say how "honoured" they were to have "a brand name like Microsoft" in their cities, something which Deana Holiday Ingraham, Mayor of East Point, Georgia, said "speaks to the quality of our community." 
More and more, however, hyperscale data centre projects are being met with suspicion, not just by local environmental groups (that's been going on for years, just ask Apple), but local politicians as well.  
In Mesa, Arizona, Enthusiasm is Drying Up 
The city of Mesa, Arizona, gets just over 10 inches of rainfall a year. In this desert town - currently in the grips of a 40.2 degree celsius heatwave, as well as what Dr. Christopher Castro, Professor of Hydrology and Atmospheric Sciences at the University of Arizona, describes as a "20-year megadrought" - some local politicians, scientists, and activists alike are vocally opposing the construction of an $800mn data centre project that was recently approved for construction in Mesa. 
Mesa Vice Mayor Jenn Duff - the only city council member to vote against the proposed data centre - told local reporters that the facility would use as much as 1.75mn gallons of fresh water every day to cool its server racks. 
The project - which Facebook is rumoured to be behind - is being pushed through at a time when the two principle water sources that serve the state (Lake Mead and the Colorado River) are both so low thanks to the drought that sources expect the federal government to restrict Arizona's state water allocations as soon as 2022. 
"When I think about that and I think about the huge impact of a data center that uses water for cooling, it's something I felt wasn't a good use of water for our city," said Duff to reporters in Mesa following the city council vote. 
According to Duff, this is the eighth such project to be approved by the Mesa city council. While she acknowledges that data centres generate millions of dollars for the city in electricity and water bills, she also criticised the narrative that data centre operators perpetuate that such facilities are job creators. The new Mesa data centre, she added, would only employ around 150 people in a city with a population of less than half a million. "They're not high-income jobs and they don't employ a lot of people that's for sure," she said. 
Dr. Castro agrees with Duff's hesitancy, telling reporters that "If you want to bring in new businesses and industries that are going to be water use intensive, that should be more heavily scrutinised. So, my question to them is where exactly is this water coming from? Is it sustainable?" 
Growing Demand for Data and Water 
Due to a multitude of factors - the pandemic included - demand for services like streaming video, intensive analytics, and other data-intensive tasks is pushing the "need" for data centre infrastructure through the roof. As a result, there are those who say that growth remains a higher priority for data centre operators than water conservation, even when it's to the detriment of the local community. 
In the Netherlands - a place which is decidedly not short on annual rainfall - hyperscale data centres owned by Microsoft and Google drew the ire of farmers who claim that the facility (which already consumes 1,840 Olympic-sized swimming pools worth of water every year, with plans in place to essentially double capacity in the next few years) is a blight on the local water table, creating a shortage in a place where water shortages shouldn't exist. According to a report released in March of 2021, the population of Hollands Kroon (which numbers fewer than 50,000 people) could face serious shortages of potable drinking water if Google and Microsoft continue with their planned construction projects on the Agriport site. Pressure grew so intense that Microsoft has capitulated, choosing to develop a more expensive rainwater cooling system that actually returns more water to the local supply than it consumes. 
In desert communities, rainwater isn't an option. 
In California, which like Arizona is also languishing in the grip of a multi-year drought, one company has taken to the nearby ocean to meet its water needs. In April, data centre startup Nautilus launched its flagship facility - a 7 MW data centre on a barge floating in the port of Stockton (just outside San Francisco). By drawing all its water for cooling from the bay beneath it, Nautilus' data centre apparently cuts its dependence on the heavily oversubscribed (Silicon Valley - just a few miles from the Port of Stockton - is home to approximately 411 MW of hyperscale data centre capacity) local water table. 
For Mesa, Arizona - separated from the Gulf of California by 230 miles of arid land and the Mexican border - parking data centres on the water isn't an option either. 
In her interview with NBC News, Duff took a reflective tone, noting that "I am 61 years old, and I know that in whatever lifetime I have left I will not see the total impact of what we are doing today. But our children and their children will, and we have to take responsibility for that."
She added: "I hope the next generation does not look back at ours and say, 'What were you thinking? I'd like to think we saw the warnings and started taking aggressive measures in order to preserve our planet and our lives."