Top 10 Cloud & 5G experts attending Cloud & 5G LIVE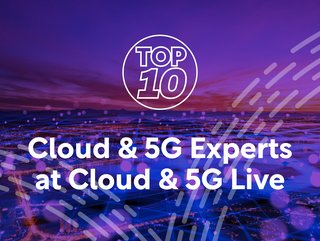 Top 10 Cloud & 5G experts attending Cloud & 5G LIVE
Ahead of Cloud & 5G LIVE - hosted by sister title Mobile Magazine - Data Centre Magazine looks ahead to some of the most highly anticipated sessions
With Cloud & 5G LIVE - hosted by our sister title Mobile Magazine - less than a month away, what better way to gear up for the fully virtual conference than by looking ahead to some of the most highly-anticipated sessions at the event?
Coming to you this October, Cloud & 5G LIVE makes a triumphant return as an exclusive two-day virtual event for industry leaders, following its debut as a stage at Tech LIVE 2022, live from Tobacco Dock in London last June.
Five themes will guide attendees through this year's bumper two-day event: The Future of Cloud Computing, The Future of 5G, Women in Cloud & 5G, Cloud & Infrastructure, 5G Network Transformation.
Day one will cover the vast and ever-evolving subject of 5G, followed by cloud and sustainability across day two.
You can get your FREE ticket here.
The conference, streamed via Brella, will feature engaging keynote speeches, panel discussions and live Q&A sessions with industry experts.
Here, we round up some of the must see talks at Cloud & 5G LIVE.
Make sure to keep your eyes on Mobile Magazine for upcoming never-before-revealed speaker announcements sprinkled among the already announced leaders appearing at the event.
10. Jassim Al Awadhi, Senior Director/Digital Transformation Principle at Du
Session: Fuelling the Future: Exploring the Transformative Potential of 5G
Date and time: 11 October, 1:15pm BST
Al Awadhi started his professional life as an Product Development Engineer in the satellite industry and then moved to project management, product design and customer experience - designing and enhancing fixed and mobile products and services as well as optimising customer experience touch-point journey.
Al Awadhi is part of the Digital Transformation programme at leading telecom organisation du, one of the two main telecom operators in the United Arab Emirates.
9. Mark Bunn, SVP, SaaS Business Operations at Nokia Cloud and Network Services
Session: The Power of SaaS Transformation: Embracing the Cloud and 5G Revolution
Date and time: 11 October, 2:50pm BST
Bunn joined Nokia from Oracle where he led monetisation and orchestration products for Oracle Communications Applications, focusing on cloud development spanning digital service provider's businesses and operations. During his tenure, was Senior Director of Product Development and subsequently Vice President of Products. He brings more than 25 years of experience in product management and software development, and a passion for driving SaaS transformation. Career highlights, Bunn says, include developing and bringing new and innovative products to market from their inception, and working closely with market leading customers - such as AT&T, Bell Canada, Cisco, Equifax, KDDI, Orange, SiriusXM, Verizon, Vodafone - facilitating adoption of new technology.
8. Ravi Kumar Palepu, SVP and Head of Network Services & 5G at Prodapt
Session: The 5G Leaders Forum (with Jessica Ellis, Director of Applied 5G at Deloitte and speaker TBC)
Date and time: 11 October, 3:20pm BST
Kumar Palepu has extensive experience in delivering complex OSS/BSS, digital transformation programme and product/solution GTM with a focus on emerging technologies to address the demand and and challenges in telecom space. His varied career has seen him spearheading cutting edge solutions/products to drive new revenue streams across North America, Europe and Asia, with 22 years of experience working with Tier 1 communications and media companies across wireline, wireless and carrier services.
During The 5G Leaders Forum, Kumar Palepu will share his knowledge as a 5G pioneer with Cloud & 5G LIVE's global virtual audience.
7. Jessica Ellis, Director of Applied 5G at Deloitte
Session: The 5G Leaders Forum (with Ravi Kumar Palepu, SVP and Head of Network Services & 5G at Prodapt and speaker TBC)
Date and time: 11 October, 3:20pm BST
A strategic leader driving adoption of advanced network technology solutions, Ellis has been in post since June 2022 following a varied career spanning a number of industries, including a joint venture between Bristol City Council and the University of Bristol named Bristol is Open (BiO), one of the world's leading smart city organisations. She has also worked in the British government's Department for Digital, Culture, Media & Sport (DCMS) working in urban connected communities and 5G testbeds and trials. She is a passionate speaker and advocate for next gen, 5G technology, advanced technology, creative industries, and wireless technology and the benefits they can bring to business and wider society.
6. Ken Urquhart, Global Vice-President, 5G Strategy at Zscaler
Session: Unleashing the Power of 5G: Transforming Industries and Accelerating Innovation
Date and time: 12 October, 4:30pm BST
The Global Vice President of 5G Strategy at one of the world's leading cloud security platforms, Ken Urquhart brings more than four decades of experience in the technology industry and a deep understanding of the opportunities and challenges that 5G/6G brings to enterprises and start-ups across various sectors and regions to Cloud & 5G LIVE. Passionate about 5G, AI, cybersecurity and engineering, Urquhart brings his ability to deliver innovative solutions that drive bottom-line growth and competitive advantage in his day-to-day role to Cloud & 5G LIVE's audiences via his keynote.
He is also an experienced recruiter and mentor, so audience members can expect a rich and immersive experience.
5. Rohit Kanwar, CTO at Accenture
Session: The 5G Transformation Forum (with Paul Gowans, Global Director Regional & Channel Marketing at VIAVI Solutions and Manish Magal, Global Business Head, 5G & Network Services at Tech Mahindra)
Date and time: 12 October, 3:15pm BST
The trio, with expertise spanning telecommunications, consulting and IT services, will discuss 5G network transformation on day two of Cloud & 5G LIVE. Kanwar, a transformative business and innovative leader boasting a proven track record on scaling and building consumer brands in the telecommunication, e-commerce and digital entertainment industries, Kanwar's work in 5G has taken him all over the world, working with the likes of Reliance, Tata, Huawei and Nortel & Bakrie Group.
4. Paul Graham, Technical Consulting Manager at Oracle Consulting
Session: 5G and Cloud for Sustainable Innovation
Date and time: 11 October, 10:35am BST
5G and Cloud Native specialist Paul Graham from Oracle's consulting branch will lead a keynote at Cloud & 5G LIVE focusing on how 5G and cloud can be utilised for sustainable innovation. New in post, he previously held roles across a variety of sectors in technical, engineering and managerial roles, encouraging development and has co-authored a book called MMS: Technologies, Usage and Business Models. He is a seasoned keynote speaker passionate in sharing his knowledge on cloud native and 5G subjects.
3. Nick McQuire, Director of Product Management at Microsoft
Session: Exploring the Future of Cloud Computing
Date and time: 12 October, 10:35am BST
The latest speaker revealed to be joining the speaker line up at Cloud & 5G LIVE, McQuire will lead the Exploring the Future of Cloud Computing keynote on day two of the event.
McQuire is a globally-recognised thought leader and AI influencer with a passion for artificial intelligence. He has more than 20 years of experience as a technology analyst and has been named among the top technology analysts in the world by the Institute of Industry Analyst Relations and was named among the Top 5 Most Admired and Transformational Business Leaders in 2023 by CIO Times and CIO Media magazines. McQuire is a member of the CIO100 and Next CIO judging panels in the UK which recognise the most transformational CIOs and next generation of IT leaders each year.
2. Susanna Kass, Co-Founder at InfraPrime
Session: Future of Data Centers Innovation and Impact: Sustainability and AI
Date and time: 11 October, 4:30pm BST
Recently a speaker at Data Centre LIVE in May, Kass hosted the Sustainable Innovation in Data Centres keynote and contributed to the The Sustainable Data Centre Forum alongside Uptime Institute's Ali Moinuddin, Steven Brown of Schneider Electric and Virtus' David Watkins where the experts dived into the capabilities of legacy technologies and how they are key to making the transition to more climate-friendly offerings.
At Cloud & 5G LIVE, Kass will host the session titled Future of Data Centers Innovation and Impact: Sustainability and AI. As a renowned cloud sustainability executive and Clean Energy Advisor and is driving higher ESG standards, Kass will share knowledge accumulated across her more than three decades of experience in the data centre industry.
1. Tobias Kederer, EMEA Head of Sustainability & Migrations/Modernization at AWS
Session: Accelerating Sustainability & Debarbonization through the AWS Cloud
Date and time: 12 October, 10:05am BST
Tobias Kederer leads the EMEA AWS Sustainability and Migration Practice for Professional Services. His team of experts partner with enterprise customers to migrate to the cloud and then leverage cloud capabilities to innovate which includes accelerating the sustainability transformation of AWS customers through the use of data analytics, ML and AI. Kederer's keynote, Accelerating Sustainability & Debarbonization through the AWS Cloud is set to draw in crowds interested in minimising their negative environmental output by leveraging AWS tools.
******
For more insights into the world of Data Centre - check out the latest edition of Data Centre Magazine and be sure to follow us on LinkedIn & Twitter.
Other magazines that may be of interest - Mobile Magazine.
Please also check out our upcoming event - Cloud and 5G LIVE on October 11 and 12 2023.
******
BizClik is a global provider of B2B digital media platforms that cover Executive Communities for CEOs, CFOs, CMOs, Sustainability leaders, Procurement & Supply Chain leaders, Technology & AI leaders, Cyber leaders, FinTech & InsurTech leaders as well as covering industries such as Manufacturing, Mining, Energy, EV, Construction, Healthcare and Food.
BizClik – based in London, Dubai, and New York – offers services such as content creation, advertising & sponsorship solutions, webinars & events.