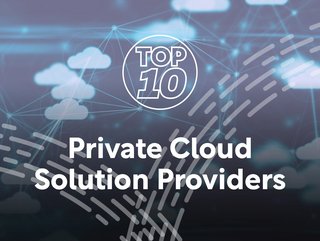 Top 10 private cloud solution providers, brought to you by Data Centre Magazine
Data Centre Magazine runs down some of the leading private cloud solution providers, including AWS, SAP and VMware
Private cloud solutions allow companies to architect a data centre using software-defined networking (SDN) and virtualisation (VMs), offering dedicated and controlled cloud-like services and infrastructure for an organisation, ensuring data isolation and security.
Private cloud solutions offer benefits such as data control, compliance adherence and scalability for dedicated environments.
Data Centre Magazine runs down some of the leading private cloud solution providers, including AWS, SAP and VMware.
Cisco's portfolio of private cloud solutions includes data centre offerings, infrastructure management packages, business applications, and cloud management tools. Cisco provides an integrated foundation for private cloud, including an on-demand infrastructure, network optimisation, an intent-based data centre, and simplified operations. Cisco's offerings, including The Cisco Quickstart Private Cloud, Cisco Firepower and Cisco ASAP Data Centre, provide a wide variety of solution capabilities suited to any and all private cloud needs.
One of the leading private cloud solution providers globally, it offers more than 170 services across the likes of AI/ML, automation, containerisation, IoT, private cloud storage and quantum computing. As a next generation, pre-packaged enterprise-class solution, IBM Cloud Private is a platform for developing and managing containerised applications, meaning customers can customise their solution and have a greater visibility into security and access control.
OVHcloud's Hosted Private Cloud solutions offer a range of services, including virtualisation and containerisation licences to give clients more speed and flexibility. The French cloud computing company's offerings have been highlighted as industry leading, being named one of Europe's leading cloud service providers. The brand works to guarantee an accessible, universal, sovereign solution that meets the unique needs of all clients.
SAP offers a sophisticated private cloud solution, SAP Solution Manager, private cloud edition - previously known as S/4HANA Cloud (private edition). It brings the full potential of SAP into a private cloud environment as it is supportive of 25 industries, and is available in 64 countries worldwide in 39 languages. SAP Solution Manager, private cloud edition
offers cloud-based ERP with real-time analytics, integration, and advanced reporting, with clients benefitting from reduced complexity, automation, security and global support.
With a wide range of private, hybrid, and multi-cloud products, VMware's services include capacity management, containerisation, application modernisation, security, and hyperconverged infrastructure. VMware's private cloud solutions leverage virtualisation and software-defined technology to build flexible, secure, and customisable environments - meaning the solutions are cost-efficient, optimise performance and support diverse workloads. Key VMware vCenter manages private cloud resources. For example, VMware's vCenter manages private cloud resources, the Aria Suite - formerly vRealize Suite - offers automation and management and its disaster recovery ensures continuity and data protection.
More commonly known as HPE, Hewlett Packard Enterprise Greenlake offers private cloud solutions through a flexible and consumption-based model. Its two offerings, HPE GreenLake for Private Cloud Business Edition and HPE GreenLake for Private Cloud Enterprise, enable organisations to create and manage their private cloud environments using HPE's infrastructure and services, combining the benefits of private cloud control with flexibility.
Oracle Cloud provides private cloud solutions via Oracle Private Cloud Appliance. The integrated system is designed to simplify the deployment and management of a private cloud infrastructure within an organisation's data centre. Its integrated hardware and software design makes it a leading private cloud solution by simplifying private cloud deployment and management, enabling scalability, and retaining data control on-premises.
Google Cloud's comprehensive toolkit earns it a place at the top of the private cloud solutions game thanks to its secure, customised enclaves within its ecosystem which, in turn, empowers tailored and controlled deployments. Through its products, such as GKE Private Clusters, Anthos, and VPC, Google Cloud offers secure, customisable, and isolated environments for tailored deployments, empowering businesses by providing heightened control and customisation.
Despite its main offerings being public cloud services, Microsoft Azure provides private cloud solutions through Azure Stack, offering on-premises Azure services. Along with this, Azure Dedicated Host provides isolated virtual machines on dedicated hardware. With these Azure solutions, clients can create controlled, secure, and customisable environments. Microsoft's private cloud capabilities cover IoT implementations and hyper-converged infrastructure, with solutions industry-specific and adaptable for financial services, governments, manufacturing, retail and healthcare, among others. Microsoft's IoT capabilities make it a top private cloud solution company.
With Amazon VPC, AWS resources can be launched in an isolated virtual network that can be defined by the user, meaning a private instance of public AWS resources can be created. AWS is one of the largest cloud providers worldwide, with Amazon VPC one of the most trusted private cloud solutions as benefits such as having access to the same infrastructure and AWS's robust network of partners can be leveraged while maintaining the integrity of a private environment.
******
For more insights into the world of Data Centre - check out the latest edition of Data Centre Magazine and be sure to follow us on LinkedIn & Twitter.
Other magazines that may be of interest - Mobile Magazine.
Please also check out our upcoming event - Cloud and 5G LIVE on October 11 and 12 2023.
******
BizClik is a global provider of B2B digital media platforms that cover Executive Communities for CEOs, CFOs, CMOs, Sustainability leaders, Procurement & Supply Chain leaders, Technology & AI leaders, Cyber leaders, FinTech & InsurTech leaders as well as covering industries such as Manufacturing, Mining, Energy, EV, Construction, Healthcare and Food.
BizClik – based in London, Dubai, and New York – offers services such as content creation, advertising & sponsorship solutions, webinars & events.