Data centre capacity shortage problematic for AI adoption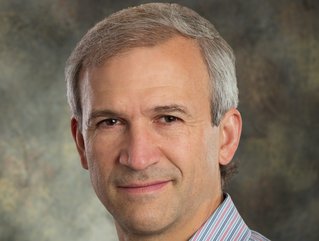 DataBank CEO Raul Martynek. Credit: DataBank
DataBank CEO Raul Martynek discusses the impact of the ongoing data centre shortage and how this may cause problems for the continuation of AI adoption
Raul Martynek joined DataBank as CEO back in 2017 and boasts a 27-year career in the internet infrastructure sector, starting at the advent of the commercial internet. Martynek has led a variety of companies across telecom, fibre, cloud and data centre.
He is now at the helm of DataBank, which, on his words, helps the world's largest enterprises, technology, and content providers ensure their data and applications are always on, secure, compliant, and ready to scale to meet the needs of our increasingly digital world - evidenced by the recent advancements in artificial intelligence.
DataBank's edge colocation and infrastructure footprint consists of in excess of 65 HPC-ready data centres in more than 27 markets, 20 interconnection hubs, and on-ramps to an ecosystem of cloud providers with virtually unlimited reach.
Here, Martynek discusses the impact of the ongoing data centre shortage and how this may cause problems for the continuation of AI adoption.
What is your main passion when it comes to the data centre industry?
My main passion when it comes to the data centre industry is being at the forefront of digital infrastructure development and how that creates a positive impact on society. If you think about it, the internet has changed everything with respect to how we communicate, how we do business, how we learn, how we entertain ourselves and how we interact with each other – everything.

We take it for granted today but when I was in college you went to the library to learn something and that would take hours and hours and you would still not find the right information. Today, all the world's knowledge is at your fingertips, and that's amazing. It is fundamental to how the world works and I believe we are only still at the very beginning of where this will lead. It's exciting to be part of that.
What has been your greatest challenge that you have overcome?
There's a great book I read recently from Ben Horowitz, of Andreessen Horowitz, the well-known Silicon Valley investor. In it, he talks about 'peacetime CEOs' and 'wartime CEOs'. Peacetime is when things are going well, growth prospects are positive, capital is available, the market is growing, etc. When a business is 'doing well' it's still difficult to scale and grow but at least the proverbial wind is at your back. Wartime is completely different. Wartime is when everything is going bad – the market is retrenching, capital is scarce/non-existent, churn is high, etc.

After the dot.com crash - which to many young people in our sector was something that occurred when they were little kids or even before they were born - that was hard. I call the period from 2000 to 2003/4, the 'Battan Death March'. You either figured out how to survive without any capital or your business collapsed on the side of the road and was roadkill. And remember, almost by definition every business back then was cash flow negative. Thousands of businesses in our sector went bankrupt. We were one of the few that survived the dot.com crash and managed to create an exit in 2007 and were able to return capital to investors. That was challenging.
Talk to me about the ongoing data centre capacity shortage - how is this becoming a problem for AI adoption?
With the spike in interest around generative AI, a lot of attention has been paid to the high demand and short supply of advanced graphics chips (GPU) – but data centre capacity is rapidly becoming an even bigger issue. Even if advanced GPUs can be obtained, there needs to be a data centre with spare power, cooling and network capacity to put them.
Before the frenzy around generative AI, the data centre industry was already under demand pressure from ongoing enterprise digitisation and cloud demand, with little extra capacity. Now, AI developers are racing to snatch up GPUs and high-performance computing (HPC) racks putting additional stress on an already limited resource.
Because of the high costs and time to deploy, data centres are typically built in a just-in-time delivery model based on forecasted demand. Since the rapid increase in interest in AI deployment was a relatively recent phenomenon, most data centre operators have not factored it into their forecasts.
This is in addition to the power constraints posed by the transition to electric energy and the already significant absorption of data centre capacity and power in a number of core markets. Generative AI demands as much as five times the power of traditional workloads, and the current grid is ill-equipped to handle it. To make matters worse, more frequent heat waves like the one we are seeing globally will further strain existing power infrastructure.
Without adequate data centre infrastructure to support the HPC hardware required to train and operate AI models, AI adoption could be slowed.
Are data centres - either yours or that of your fellow DC companies - struggling to keep up with rising demand?
Yes, but 'struggling to keep up' is really a positive problem – we have a lot of demand for our product and could sell more if we had more of it. I'll take that problem anytime over the alternative!
But in all seriousness, yes, it's become more difficult to bring new data centre capacity into the market over the last few years due to a number of factors. First, because of inflation and rising interest rates, the cost to construct new data centre capacity has gone up. That means we have to increase prices and obviously customers don't like to pay more for a product they paid less for last year or the year before that.
Second, power availability has become more constrained because of the huge amount of absorption that has occurred in key data centre markets like Ashburn, Chicago, Silicon Valley, and Phoenix. That means we have to spend more time finding sites with adequate power.
Third, COVID, as we know, created huge supply chain issues and those problems continue to impact our sector with lead times for MEP equipment now stretching from 50 to 80 weeks, which requires even more management and money.
Last but certainly not least, the demand from generative AI, which is a 2023 phenomenon, has put 'gas on the fire' when it comes to demand and means we need to work faster and smarter to bring new inventory to market.
So overall, yes, things are harder than they were a few years ago but again that is a good thing when you think about it.
What do you see the future of AI adoption and data centres looking like?
I think we are at the very beginning of AI adoption so it's hard to predict how things will evolve. There is no question in my mind that the power of AI has been recognised and that we will see a significant amount of investment in a wide range of AI applications for a wide range of use cases.

The next few years will be about fleshing out these use cases and putting them into production ('inference'). The fundamental role of data centres will not change - as the foundation for technology adoption - but I think we will see more and more data centres built to accommodate the higher power and cooling requirements of GPU infrastructure.

Right now, data centre demand is outstripping supply and I think that will remain that way for several years since average development timelines for new large-scale data centre supply take 24 to 48 months. As a result, market prices for data centre capacity will likely continue to rise. I also think that as 'real-time' AI uses cases get deployed - think, chatbot for customer support instead of the clunky IVR or chatbot you see today - that data centre infrastructure will move to the metro edge of the top 20-30 metropolitan areas to delivery the low latency and capacity those solutions need.
What do you see the future of your career and DataBank?
DataBank is well-positioned to continue to grow into the future. The market dynamics are very positive, and I think technology adoption will continue for decades to come. Our investor base is a group of long-term infrastructure investors, who seek to make investments over a very long-term horizon. I like to say that DataBank is extremely well positioned because we are private, permanent and at scale. I can't predict the future but I'm very sure that DataBank will be here long after I move on.