Data Centre Magazine Launches 'Top 100 Companies 2023'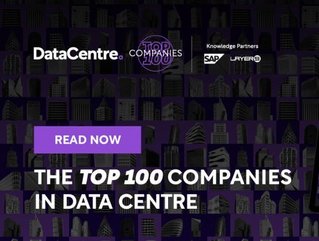 Data Centre Magazine Launches 'Top 100 Companies 2023'
In case you missed it, our Top 100 Companies 2023 is out now featuring Digital Realty, IBM Cloud, and more
Data Centre Magazine has launched its Top 100 Companies supplement, ranking the world's best data centre companies from Edge Centres and NTT to AWS.
Data Centre Magazine is thrilled to announce the highly-anticipated launch of its prestigious Top 100 Companies supplement, which celebrates the world's most influential data centre companies.
The collection of 100 industry players - including the likes of Amazon Web Services (AWS), DataBank, VIRTUS Data Centres, Green Mountain, and Ark Data Centres - stands as a tribute to the achievements of the top data centre companies, boasting adept teams and visionary leaders. Together, they are forging a path toward a future marked by heightened efficiency, seamless connectivity, and unwavering commitment to sustainability.
For further details on the Top 100 Companies supplement and to explore the incredible journeys of these global data centre leaders, click HERE.
It's fantastic to showcase all the leading companies across the data centre industry and how they are driving innovation - many of which are also championing sustainability and working to make the world a more connected and accessible place," says Maya Derrick, Editor of Data Centre Magazine.
"Being involved in the wider data centre community and an industry publication that highlights its positive impact is a pleasure and a privilege, and I look forward to seeing what the future holds for the sector as a whole."
Glen White, Founder and CEO of BizClik says - "The Data Centre industry pivots heavily on the future of the cloud and cloud-based services. The industry shows unprecedented signs of growth and 'The Top 100 Data Centre Report' 2023 is an amazing collaboration from our super talented 'Cloud & 5G' team at BizClik of the very best companies operating data centres globally."
A big well done to my team at Data Centre Magazine and the whole crew at BizClik; the work they are doing is simply 'best in class across digital media."
Data Centre Magazine, a BizClik brand, is a leading data centre publication that connects the world's leading data centre executives with news, feature articles, interviews and the latest industry trends. It is the established and trusted voice on all aspects of Data Centres, Hyperscale, Cloud & 5G, Sustainability, Infrastructure and Tech & AI.
You can read the latest news in Data Centre Magazine by clicking HERE.

You can also now sign up for Cloud & 5G LIVE, an exclusive two-day virtual event which takes place on 11 and 12 October 2023. Click HERE.