How data centres can address data and AI growth challenges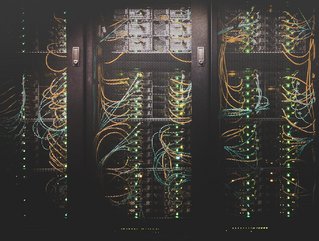 CBRE highlighted there is incentive to develop AI-specific data centres. Credit: Taylor Vick
Digital Realty's high-density colocation offering provides access to an innovative solution that supercharges AI capabilities and unlocks value from data
Regardless of what industry you focus on, AI has taken a hold - and it only continues to take centre stage.
Advancements in the software - and other technologies - have meant that the demand and client needs for data centres are changing, spurring on further growth industry-wide.
CBRE highlighted there is incentive to develop AI-specific data centres in markets with ample power supply, lower energy costs and land prices to handle these complex and high-performance workloads.
The American commercial real estate services and investment firm added that AI can both consume and mitigate power consumption and mitigation, citing an EY study on how AI and automation make data centres greener and more sustainable and, with pragmatic usage of AI, "companies can save up to 40% of the power spent on data centre cooling".
With new technologies consuming large amounts of power, which require specialised infrastructure to support them, there is pressure in providing high-power densities while safely and efficiently regulating the temperature to ensure performance is not impaired.
Data centre operators tackling AI demand with colocation services
Digital Realty - the largest global provider of cloud- and carrier-neutral data centre, colocation, and interconnection solutions - has just revealed the availability of high-density colocation services across PlatformDIGITAL, the company's global data centre platform.
Its newly-announced high-density colocation services enable businesses to overcome the processing and proximity challenges associated with the unstructured and exponential growth of data, as well as the use of AI.
The solution's key features include high-density support of workloads of up to 70 kilowatts per rack and Air-Assisted Liquid Cooling (AALC) technologies which is supported in 28 markets across three regions, including North America, EMEA and APAC. It also boasts extensible and sustainable qualities, meaning that it can scale up and out with flexible and sustainable consumption models to meet client needs.
Scott Mills, Senior Vice President Engineering and Customer Solutions at Digital Realty, recognises the data management challenges companies and clients face. "The exponential growth in data can hinder performance and innovation," he explained. "As a trusted infrastructure partner, Digital Realty is committed to addressing these challenges by leveraging our longstanding experience in delivering high density infrastructure solutions.
"We've listened to our customers provide standardised configurations and ultra-high-power densities, enabling businesses to unlock new possibilities, quickly deploy high performance infrastructure on a global platform, and achieve optimal performance in the age of AI."
What industry experts say about the growth of AI and subsequent pressures on data centres
Cirrascale's CTO Dave Driggers explained how as the firm continues to deploy the latest AI accelerators for its AI Innovation Cloud, it relies on global data centre providers to supply high-density colocation services "that can support the massive per rack kilowatt demands that the next generation of accelerators require". He said that data centres meeting future demands today enables Cirrascale "to be able to quickly deploy our infrastructure in a dense environment without fear of overheating, throttling, or damage to our high-density servers".
Global market intelligence firm IDC is forecasting data consumption will grow over 20% annually in the coming years, with the enterprise applications stimulated by the increasing adoption of AI capabilities driving a significant portion of data consumption. Its Research VP Courtney Munroe says colocation providers are central to the digital ecosystem for managing data workflows "to cater to these burgeoning high-density colocation requirements of enterprises as they implement and leverage AI capabilities".
"Undoubtedly AI, HPC and video streaming workloads are driving increased demand for capital-intensive, dense computing solutions, Nicole Enright, President of Avnet Integrated Solutions - which partners with Digital Realty to evaluate, design, deploy, and maintain liquid-cooled solutions across its portfolio, adds. "To effectively implement these solutions at scale, customers require facilities and services that not only support seamless deployment but also maximise capital utilisation."
******
For more insights into the world of Data Centre - check out the latest edition of Data Centre Magazine and be sure to follow us on LinkedIn & Twitter.
Other magazines that may be of interest - Mobile Magazine.
Please also check out our upcoming event - Cloud and 5G LIVE on October 11 and 12 2023.
******
BizClik is a global provider of B2B digital media platforms that cover Executive Communities for CEOs, CFOs, CMOs, Sustainability leaders, Procurement & Supply Chain leaders, Technology & AI leaders, Cyber leaders, FinTech & InsurTech leaders as well as covering industries such as Manufacturing, Mining, Energy, EV, Construction, Healthcare and Food.
BizClik – based in London, Dubai, and New York – offers services such as content creation, advertising & sponsorship solutions, webinars & events.