Microsoft unveils latest sustainable data centre solution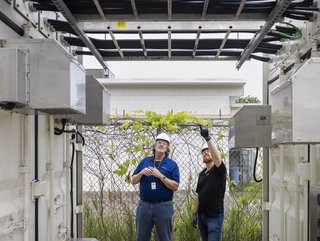 Microsoft has revealed its latest hydrogen fuel cell development, designed to provide a sustainable, emission-free source of data centre backup power
For a number of years, Microsoft has been paving the way for investments into sustainable data centre technologies.
And, the latest solution unveiled by Microsoft is a hydrogen fuel cell system, which can provide dependable backups for data centres.
The details of the new hydrogen fuel cell technology
Microsoft's latest test saw a first-of-a-kind hydrogen generator set in two 40-foot-long shipping containers.
These hydrogen fuel cells were built by engineers at Plug, and form the latest step in Microsoft's zero-carbon emissions strategy. These generators are dependable, high-performance and completely emission-free.
If successful, these fuel cells could replace the diesel-powered backup generators that the data centre industry currently depends on.
The fuel cells have a 125 kilowatt capacity, and each shipping container contains 18 fuel cells. This system is the largest that Plug has ever made, meaning all of the constituent components had to be scaled up to achieve the capacity.
Now, testing is being conducted, to prove that this system can successfully perform to the same standard as diesel alternatives, in real-world scenarios.
Hydrogen has been widely revered as a promising clean energy solution. So much so, that the US Department of Energy announced the first Energy Earthshot in June 2021, which aims to reduce the cost of clean hydrogen by 80%, to US$1 for 1 kg within the decade. This will, if successful, make the use of hydrogen fuel far more economically viable and help increase the speed of the technology's uptake.
Microsoft's sustainable data centre fuel commitment
Microsoft has pledged that it will eliminate diesel fuel from its data centre operations, and achieve carbon negative status by 2030.
This latest initiative comes after the launch of Microsoft's sustainable data centre region in Sweden, in November 2021. This region uses diesel containing a minimum of 50% renewable raw material, and an almost equivalent reduction in net carbon dioxide emissions.
Proton exchange membrane (PEM) fuel cell technology is another solution that is currently being explored.