Rack Centre becomes world's first EDGE data centre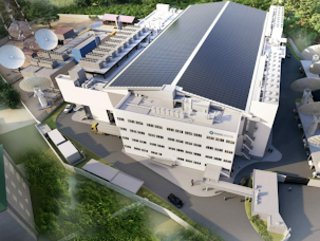 Rack Centre's Nigeria facility is the first of any data centre in Europe, Africa and Middle East to receive the EDGE sustainability building certification
This internationally recognised credential was recently awarded to Rack Centre's Lagos data centre facility.
Alongside its pioneering sustainability standards, this data centre is Africa's only certified carrier neutral tier III constructed data centre, and West Africa's leading interconnect ecosystem.
In fact, after having completed the Hyperscale Expansion Programme, Rack Centre's Lagos expansion programme is the largest in West Africa. The company is currently implementing plans to expand the site, creating a 14.5MW facility, comprising 7200 sqm.
The green initiatives of Rack's Lagos data centre
Following Actis' recent acquisition of Rack Centres, the leading global green infrastructure investment firm funded the data centre's cutting-edge sustainability drive.
The EDGE (Excellence in Design for Greater Efficiencies) certification was received in recognition of the recent expansion plans, and the prioritisation of energy efficiency and waste management strategies throughout.
Despite the vast scale of the data centre's expansion - which will increase its capabilities from 1.5 to 14.5MW when complete - the site will have achieved energy savings of 35%, 41% reduction in water usage, a 45% reduction in the energy required to build the extension, and the reduction of 100 tonnes of carbon emissions, annually.
In addition to these impressive figures, Rack Centre is also reducing its carbon footprint further, by switching from diesel to gas to generate its power. Alongside the environmental benefits of this, the switch will also represent annual savings of over $10 million.
This is the first of many such successes for Actis, who have already pledged to ensure their portfolio reaches Net Zero by 2050.
About the EDGE certification
EDGE is a green building certification, which is used as a sustainability standard for 100 countries, across the world.
The certification was created by the International Finance Corporation (IFC), and it can be achieved by buildings of any variety, including offices, industrial buildings and retail spaces, as well as buildings in the public sector.
The goal of the EDGE initiative is to encourage global companies and building developers to create designs that are more energy efficient, use less water, and are more sustainable in their construction.
Since this was the first data centre to ever receive the certification, Actis worked closely with IFC to develop relevant assessment tools and criteria, which other data centres can then follow in the future.