Solving the data skills gap through upskilling
By Libby Duane Adams, Co-Founder and Chief Advocacy Officer at Alteryx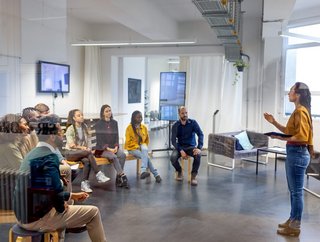 Libby Duane Adams, Co-Founder and Chief Advocacy Officer at Alteryx, outlines why solving the data skills shortage requires a renewed focus on upskilling
Today, the country faces the largest shortage of digital skills in its history. The demand for expert data scientists far outstrips supply, and the impact of this shortage is magnified by widespread disruption, an inability to recruit at pace, and an ever-changing competitive landscape.
The failure to harness data and analytics will be a major headwind for companies, especially during this period of extended economic uncertainty. For many executives, data analytics can be the difference between being beaten by the competition or making the informed decisions that lead to success. And according to a McKinsey survey, when asked where the greatest need to address any skills shortages exists, most respondents named data analytics.
However, many organisations assume that hiring more data scientists is the only way to deliver much-needed data insights. In reality, history's greatest data-driven insights have often been discovered by subject matter experts – not data scientists – using their unique perspectives and hands-on experience. For instance, the founder of modern nursing, Florence Nightingale, revolutionised healthcare by using mathematics and medical statistics to link hygiene with improved patient outcomes.
Businesses must rethink their strategy when it comes to talent acquisition and retention. They should focus less on searching for data experts, and instead prioritise empowering their existing workforce to deliver data insights. This new approach must start with upskilling knowledge workers and employees with the ability to use data analytics in their roles.
Organisations that want to build their way out of the data skills shortage and begin delivering high-value insights at the pace required by today's markets should follow these three steps.
Step 1: Reveal your organisation's unseen internal specialists
Gartner research predicts that data literacy will become an explicit and necessary driver of business value by next year, meaning that business success will depend on the ability of workers to "speak data". Therefore, companies must focus on the missing link between data and data scientists: their knowledge workers. These in-department experts not only understand the business context of the questions being asked or the problems that need to be solved, but they also know where the metaphorical gold is buried within their departments. Think of it this way: it is much simpler to teach an accountant the basics of data analytics than it is to teach a data scientist the complexities of accounting.
Empowering these knowledge workers with digital skills can produce business value almost immediately. Companies should use cross-functional learning resources and engagement to develop these specialists within every department. These in-department experts must be given the right support to ensure they thrive and bring their unique knowledge and perspective to the front of the decision-making process.
To achieve this goal, organisations must assess each department to discover what resources they hold and how best to utilise them. In practice, this might mean a logistics company asks a driver to design the optimal route for a delivery, rather than a data scientist. While the data scientist will consider macro trends, the driver's experience means they are aware of invisible micro changes that would impact the journey.
For companies to fill the data skills gap, they must prioritise empowering the people who can deliver the most value: their existing workers. Through upskilling programmes, learning resources and the democratisation of data, these knowledge workers can be given the tools to solve challenges for themselves using data and their own direct experience.
Organisations cannot rely exclusively on their data scientists to generate business insights, due to the sheer volume of data being created all the time. Businesses should instead concentrate on upskilling their existing workforce and assess new job applicants for their aptitude at speaking data, in addition to any other prescriptive skill requirements.
This process is not about trying to turn every member of staff into a data scientist, but instead utilising their skills and perspectives more effectively. Many departments contain invisible insights locked away in places like legacy spreadsheets that would remain undiscovered by formal data teams. It is vital that the responsibility for generating data-driven insights is shared across a business, not confined to any single team.
Step 2: Develop a new data strategy involving these internal experts
Most data scientists simply lack the capacity to solve every challenge presented to them. Instead, these experts should provide leadership on data strategies, supported by in-department experts who can offer their unique perspectives to help inform the decision-making process.
Gartner research estimates that, in 2019, businesses crossed the milestone of employing more than one billion knowledge workers globally. Yet these knowledge workers remain critically underused. Meanwhile, most data analytics teams heavily or exclusively consist of data scientists, but this lack of diverse perspectives often results in a narrow understanding of both the problem and the solution.
This presents organisations with the opportunity to incorporate their in-department knowledge workers into the analytic process. By developing a culture that enables and facilitates data communication, businesses can collect, analyse, and act upon data at scale, resulting in better, more informed and effective decisions.
Creating such a culture can be achieved with the right strategy. First, organisations must build awareness and excitement among their workforce about how data skills will benefit them. This will motivate people to make necessary changes. Second, organisations must act on that initial excitement by delivering training programmes. Finally, once staff are equipped with the right skills, organisations must support and encourage actions that will deliver sustained success.
Step 3: Promote an ongoing cycle of learning and improvement
Improving digital skills and data literacy depends on how well business leaders engage the domain experts they already employ – empowering them to get involved with analytics, discover new use cases, and deliver results through a continuous cycle of development. Companies tend to look outwards for technical solutions, but they must look within to find the key to successfully developing a data-literate workforce.
First, organisations must encourage all data workers to take part in this journey, rather than just equipping data science teams with siloed technologies.
Second, balance the stress and challenge of upskilling with fun. Events like Datathons, where teams work together to solve a common data-oriented problem in a limited time period, can be an exciting and enjoyable way for teams to tackle problems and learn together.
Third, create a safe space for failure. Test ideas using sample datasets and virtual environments, while navigating around any bumps that teams may encounter.
Finally, scale these strategies across the whole organisation, so that all departments can use data analytics and derive business insights. Adoption programmes, internal social networks, training, and user sessions are just some of the tools that can be used to empower the whole organisation and build a data-driven digital culture.
Solving Britain's data skills shortage is an ongoing journey and will take time. Any company that hopes to tackle its own shortage must focus on utilising, upskilling, and enabling its existing experts to support the data scientists. This will result in more insights being delivered faster, helping the organisation to survive and thrive.