Cumulus completes next phase of nuclear energy data centre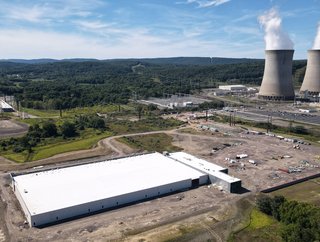 Cumulus Data has announced the completion of a key milestone in the construction of its flagship zero-carbon nuclear-powered Susquehanna data centre campus
The construction of the powered shell for its first 48-megawatt, 300,000 square foot data centre is now complete and available for lease, with a number of fibre routes in service.
The details of Cumulus Data's new site
Cumulus Data has announced the completion of key milestones in the construction of Phase 1 of its flagship 475-megawatt zero-carbon Susquehanna data centre campus.
When complete the site, which is located in northeast Pennsylvania, will comprise a 1,200-acre campus, utilising nuclear energy as a sustainable power source.
Cumulus Data is a subsidiary of Talen Energy, and the energy for the site will be generated by Talen Energy's Susquehanna nuclear power generation facility. The Cumulus data centres will be directly connected to the 2.5-gigawatt Susquehanna power stations, without intermediation by legacy electric transmission and distribution utilities.
This direct-connect, on-site power generation model enables industry-leading total cost of ownership with the most attractive power rate in the US, thereby offering Cumulus' data centre customers significant value and competitive advantages.
"Our flagship Cumulus Susquehanna data centre campus is positioned to welcome its first tenant and commence commercial operations this year," commented Alex Hernandez, CEO of Talen Energy and Cumulus Growth.
"We look forward to advancing our mission to solve the energy 'trilemma' which we define as the rapidly increasing consumer demand for zero-carbon, low-cost, and reliable electricity by data centre customers, beginning with our first Cumulus Susquehanna data centre campus."
"There are currently few options that fulfil all three requirements at once - at massive scale, while offering data centre customers an industry-leading TCO. As a member of the iMasons Climate Accord, Talen and Cumulus will support our customers in achieving carbon neutrality by uniting together to adopt a common standard enabled by solutions such as the Cumulus carbon-free data centre platform," added Scott Hanna, Cumulus Chief Revenue Officer.
A landmark sustainability step
The technology deployed in this site represents a first of its kind in the US.
The data centre will utilise nuclear power, as a zero-carbon, low-cost and reliable energy source.
Through the development of this site, Cumulus is committed to offering pioneering zero-carbon ESG customer benefits.
In addition to its sustainable energy commitment, the Cumulus Susquehanna data centre campus investment will create family-sustaining jobs, provide technology training, and offer economic benefits including tax revenue and increased consumption of local goods and services, to both Pennsylvania and the surrounding community.