Huawei smashes data centre PUE record with 1.111 score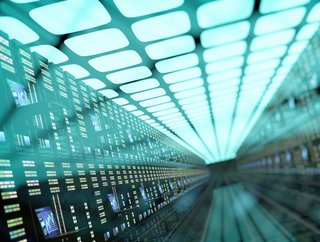 PUE readings have remained relatively flat for the past decade, but Huawei just pushed the envelope with a reading of 1.111 in a recent test.
Chinese tech giant Huawei has set a new record for data centre efficiency. 
Cloud Computing & Big Data Research Institute— a core department of the China Academy of Information and Communications Technology (CAICT) — and The Green Grid China (TGGC) recently conducted an onsite test to gauge the annual average PUE of one of Huawei's smart modular data centres. 
The result: a PUE of 1.111 at 50%, smashing the previous annual record of 1.245 recorded in 2018.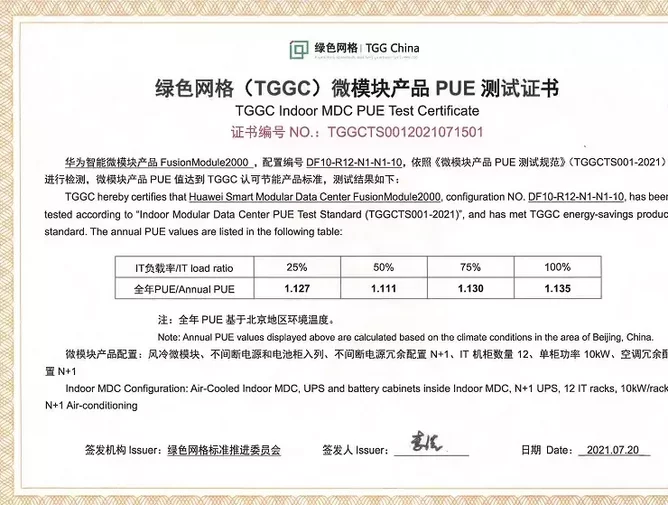 Data centre PUEs have remained relatively stagnant for the past decade, as diminishing returns make it harder and harder to squeeze more efficiency out of a facility. Back in 2008, Google's earliest hyperscale facilities were running at average PUEs of around 1.21, and even claimed that one of its sites was regularly hitting a PUE of 1.3 more than a decade ago. 
In fact, the Uptime Institute's Andy Lawrence wrote last year that the average industry PUE is "only marginally better than seven years ago," adding that the industry has remained flat since 2013. 
It's worth noting that methods of measuring PUE differ based on time span and external conditions. A data centre could run at a PUE of 1.1 one day and 1.8 the next, which would throw off its aggregate score. 
Huawei's year-long average score of 1.111 is still very impressive, but it highlights the fact that the data centre industry really is bumping up against the very edge of what hyper efficient design can achieve. However, just because outliers like Google are hitting the boundaries of what's physically possible, it doesn't mean that the whole industry is even close. 
Currently, the industry average PUE sits at around 1.5. This, according to Huawei, means that IT equipment consumes 67% of a data center's total power supply, with the remaining 33% consumed by other systems, such as cooling. The annual average PUE of 1.111 that Huawei recorded represents a 25% reduction in total power consumption compared to a PUE of 1.5.
"China has become the world's second-largest market for data centers and the fastest-growing market in the world. High power consumption will be an important factor restricting the development of data centres," said Zhang Song, Deputy Chairman of the TGGC.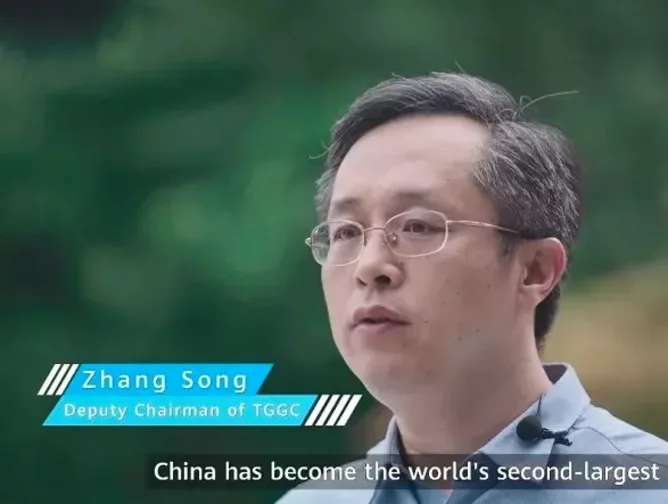 Last week, the Chinese government unveiled a new three year initiative to dramatically grow the country's data centre industry from the hyperscale to the edge. The Chinese Ministry of Industry and Information Technology is tasking Chinese data centre firms with not only growing the total compute resources in the country by around 30% each year (from 120 exaflops this year to 200 exaflops in 2023) but increasingly densities and reducing their data centres' PUEs to 1.3. 
If China - which also just evicted more than 90% of its bitcoin miners in a bid to make room for other forms of power-hungry computing - expects to grow its digital infrastructure at speed and scale, while also drawing down its carbon emissions ahead of its carbon neutrality goal of 2050, then its data centre industry (a sector expected to grow its energy consumption by 222% by 2035) needs to reduce its PUEs and reduce them now.