Building data centres for a more sustainable future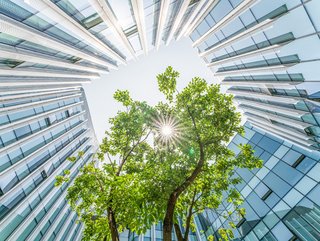 As our demand for data continues to increase, the data centre industry is expanding – all whilst countries commit to either carbon neutrality or net zero
The demand for connectivity over the globe has increased rapidly over the past few years, but even more so over the last two years. There has been an accelerated need for data services such as streaming, online shopping and more, which is causing a spike in the power that the technology industry consumes.
Where there is a surge in data use on this scale, there is also an increased demand for space to store this data, leading to a demand for data centre space.
Power consumption is only set to grow further as data demands increase. According to the International Energy Agency, data centres accounted for around 1% of the world's total electricity use in 2019. This is set to rise to around 3-13% by 2030 as the digital world grows, according to research conducted by Huawei Technologies' Life Cycle Assessment Senior Expert Anders Andrae.
With sustainability on the agenda of many organisations globally, data centre providers and operators are joining the fray with their own strategies for reducing emissions and reaching net zero. Many are working to get ahead of the game and be as efficient as possible to mitigate their environmental impact and prove their sustainability credentials.
Building 100% renewable facilities that are equipped for high-capacity computing needs
Founded in 2010, atNorth is a leading Nordic data centre services company offering environmentally responsible, power-efficient, cost-optimised data centre hosting facilities and high-performance computing services. But how exactly does the company offer all of those capabilities and remain committed to sustainability?
Well, first of all, the electricity that powers its data centres comes from 100% renewable sources of energy, utilising natural air-cooling systems to keep the data centre facilities at the optimal temperature and humidity – all while ensuring that energy use is minimised across its campuses.
Any excess heat generated in its data centre facilities is then used to heat houses, effectively passing on a significant by-product of the electric energy used to power technology infrastructure as hot water to be used in home central heating systems.
Eyjólfur Magnús Kristinsson, CEO at atNorth, said: "Our goal is to create a decarbonising platform for high-density IT workloads by operating data centres throughout all the Nordic countries, with the possibility of expanding into Northern Europe. We are growing to be the largest Nordic data centre operator.
"All of this means that we are now searching for new sites to build in the Nordics. As sustainability is at the very core of our business and strategy, we envision building data centres where we can contribute to the circular economy by reusing heat. This is important for the environment and also to the communities nearest to our centres – we want to have a general positive impact.
"The exponential growth of data-driven business requires a new type of data centre – we want to be the driving force in 100% renewable facilities that are equipped for these high-density, high-capacity computing needs in a way that also gives back to both the surrounding communities and the environment as a whole."
Meeting climate change commitments early
US colocation giant, CyrusOne, has recently published its latest sustainability report, which looks at its progress in making its global data centre operations climate-neutral and water-positive.
The company operates more than 50 data centres around the world, with five in London and Frankfurt, as well as additional facilities sited in Paris, Dublin, Madrid and Amsterdam.
As of June 2021, CyrusOne's European facilities met their 2030 carbon reduction commitments to the Climate Neutral Data Centre Pact 8 years early, achieving 100% renewable electricity and offsetting the small amount of diesel used for backup generation.
"The future is coming quickly, and we are doing our best to make it a more just and sustainable one. To respond to ongoing changes and achieve the future we hope for, the world requires resilience – a practice we in the data centre industry pursue daily," said David Ferdman, President and CEO of CyrusOne.
The company achieved a seven-fold, year-on-year increase in the amount of renewable energy it purchased in 2021, while also achieving net positive water status at its growing data centre in Allen, Texas – the third data centre in its net positive water portfolio. Initially, this began with water-free cooling at the facility and then developed into restoring water using BEF Water Restoration Certificates to exceed the remaining consumption, providing benefits to regional wildlife and the local community.
Based in Brazil, Scala Data Centres is a hyper-scale data centre platform with the aim of enabling the positive future and progress of Latin American countries through the development of digital infrastructure in the region.
Scala Data Centres announced in November 2020 the migration of 100% of its energy consumption to renewable and certified sources, becoming the first data centre company in Latin America to reach this ambitious milestone.
In May 2021, Scala received CarbonNeutral certification. Issued by Natural Capital Partners, the leading experts in carbon neutrality with more than 20 years in the game and over 300 global clients, this is the first certification granted to a Latin American company in the data centre sector that already operates with 100% renewable energy.
Creating a greener future
With their own environmental targets to reach, governments around the world have set environmental targets for various industries and so have enacted many schemes and initiatives encouraging transparency and change for a more sustainable future. As such, this increasing environmental awareness among businesses means that the sustainability credentials of data centres are more under the microscope than ever before – so it pays to invest in solutions and offsets.

Today, thankfully, most data centres are built on commitments to innovative green and renewable strategies that include green power, water reclamation, zero water cooling systems, recycling and waste management, and more. Eventually, this will mean an end to traditional legacy facilities – which will soon be obsolete – and the dawn of a new era for the data centre industry.