Kasi Cloud: A platform for hyperscale and enterprise cloud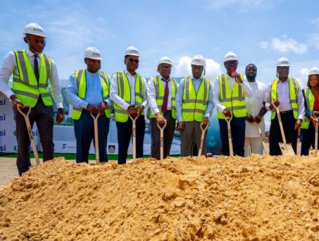 We take a look at Kasi Cloud, the Nigerian data centre platform building green interconnection facilities for hyperscale and enterprise cloud customers
Kasi Cloud, also known as Kasi Data Centers, is a Nigerian provider of data centre services that builds green interconnection facilities for enterprise cloud and hyperscale customers. Led by CEO Johnson Agogbua, the company was founded in 2018.
Its data centers are secure, reliable, and sustainable, have a capacity scaling ability, and offer local, regional, and global interconnections, enabling enterprise and government establishments to store data efficiently.
Kasi Cloud announces US$250mn hyperscale data centre
The Nigerian data centre company recently held a ceremony to mark the beginning of construction on its first of a number of data centre campuses in Nigeria. The US$250mn facility is designed to meet hyperscale requirements and its design models Silicon Valley's technology Parks.
When fully developed, Kasi Cloud says the campus will stand as one of the biggest of its kind in Africa. Kasi's hyperscale data centre and interconnection solutions mark the start of a critical, new generation digital infrastructure platform that will be constructed in Lagos, Nigeria.
"Kasi's mission of building a digital platform to accelerate cloud and interconnect people, enterprises, and governmental institutions in Nigeria and across Africa started here in Lagos, Nigeria," said Kasi Co-Founder and Chief Executive Officer, Johnson Agogbua.
"We are excited to have both the Governor of Lagos State, His Excellency Babajide Sanwo-Olu and NSIA CEO, Uche Orji, to celebrate this momentous groundbreaking with us and the community."
The Executive Governor of Lagos State, Babajide Sanwo-Olu was the Special Guest of Honor at the ceremony. In addition to Governor Sanwo-Olu, also in attendance were some of Kasi's key investors, including the Chief Executive Officer of the Nigerian Sovereign Investment Authority (NSIA), Uche Orji.
"We congratulate Kasi on this momentous milestone. NSIA believes in the potential of digital infrastructure to serve as an enabler and accelerator for innovation," Orji said, speaking on the project.
"We expect that the transformative impact of this infrastructure on the domestic tech space will reposition Nigeria. The Board and Management of the Authority is proud to be associated with this development."
Image: Kasi Cloud