Nautilus launches 7MW floating data centre in Stockton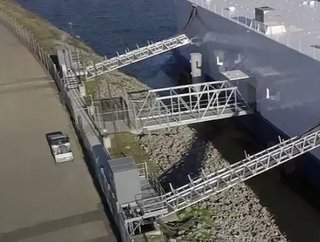 Nautilus Data Technologies' barge-mounted facility uses water cooling to achieve high-density computing at a PUE of 1.15...
Data centres took to the seas earlier this week with the launch of a new facility in California. Nautilus Data Technologies, the company behind the launch, has spun up a 7 MW data centre on a barge in the Port of Stockton. 
Nautilus believes the project will serve as a proof of concept for the potential of water-borne data centres to solve a number of issues facing the industry, like real-estate shortages (and costs), cooling and water conservation. 
"The rapidly growing data center sector is just as rapidly on the way to becoming utterly unsustainable," said James Connaughton, CEO of Nautilus. 
According to Connaughton, "Nautilus can reverse that" process. The company's goal is to make the data centre sector "higher-performing, dramatically more sustainable, and more rapidly and equitably able to serve communities, government, and businesses globally."  
One of the main sustainability benefits that Nautilus' design offers is ready access to water for use in cooling its 10,000 square foot data centre's server racks, which Nautilus adds have been built to a density of 100 kW per rack, and operate at a PUE of 1.15 (well below the industry average. 
By drawing water from the ocean on which it floats, Nautilus' facility supposedly delivers "zero-impact cooling", something that the industry as a whole, and specifically operators in drought-stricken California, should find appealing. 
It's estimated that traditional evaporative air-cooling annually consumes up to 8mn gallons of water per MW of energy needed to run the facility. Silicon Valley - just a few miles from the Port of Stockton - is home to approximately 411 MW of hyperscale data centre capacity. The region's impact on the local water table is considerable, and finding ways to reduce, or even remove said impact would be a huge development for the world capital of tech.  
Additionally, Nautilus' data centre supposedly "operates at the highest level of energy efficiency, with no water consumption, no refrigerants, no water treatment chemicals, no wastewater, and no harm to wildlife." As a result, the Stockton 1 data centre is 70% more efficient, cutting net power consumption by 30%, which cuts costs in turn. 
"I'm very pleased that Nautilus has recognized the untapped potential and resources in our region and that they chose the Port of Stockton for the site of its new data center," said Congressman Jerry McNerney (CA-09). "Nautilus' sustainable digital infrastructure is yet another example of the innovation taking place right here in Stockton, and I hope more companies will see the benefits of investing in our community and region."
Connaughton added: "We want to make this technology as widely available as possible to sustainably as possible help close the digital divide and enhance the lives of people around the world."