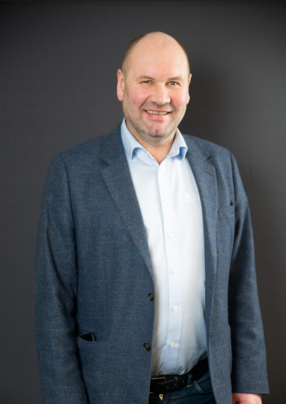 Tor Kristian

Re-setting the green standard for Europe's data centres, the CEO of Green Mountain, Tor Kristian, is implementing sustainability at another scale
"To operate efficient state-of-the-art colocation data centres, the number one priority for Green Mountain is to have skilled, motivated, and enthusiastic employees who are up for the task."
This is the ethos of Tor Kristian, the CEO of Green Mountain. And it is this people-centric approach that has shaped the entirety of Green Mountain's company strategy.
"Whether it is the operations team, project managers, service delivery, sales, management or supporting functions – they all contribute to the same goal; "Setting the green standard" in the data centre industry."
According to Kristian, Green Mountain is shaped by four core values: a strong customer focus; reliability and honesty; knowledge and enthusiasm.
"These values are deeply rooted in our company culture and reflect on anything we do. After all – it is all about the people."
Green Mountain is defined by its people-led philosophy, and Kristian sets the human factor as one of the most pivotal in the running of a data centre.
Green Mountain's pioneering sustainability standards
Green Mountain designs, builds and operates highly secure, innovative and sustainable colocation data centres. Its sites include:
The data centre near Stavanger (SVG1-Rennesøy) is built deep inside a mountain, using former high-security material from NATO.
The data centre in Telemark (RJU1-Rjukan) is located in the 'cradle of hydropower' in Norway, close to several local hydropower plants.
The data centre at Enebakk (OSL1-Enebakk) is set in a prime location, just outside Oslo.
Green Mountain's latest addition to the data centre portfolio is a new site in London, UK.
Green Mountain's data centres are amongst the greenest in the world.
Not only does it power the daily operations of all its data centres with 100% renewable hydropower - an achievement which it has successfully cemented within its long-term growth strategy -to mininise both its carbon footprint and ecological impact, but it was also the first colocation provider in Europe to support The Future of Internet Power initiative.
Alongside this, Green Mountain participates in two pilot projects on heat reuse - using the waste heat from Green Mountain's SVG1-Rennesøy data centre within a land-based lobster farm, and achieving the prime conditions for a land-based fish farm by using the wasted heat from its RJU1-Rjukan data centre.
The provider is also paving the way in sustainable data centre waste management. Green Mountain's sites have a target sorting rate of >80% for recycling its waste, and it has partnered with CHG-Meridian to ensure the most sustainable possible approach to e-waste management.
Read the full story HERE.
"When they sign an agreement with us, our customers have secured an avenue to grow for decades, and we assume a strong long-term expansion capacity commitment while giving them the comfort of growing in the same location, with a trusted partner"