Dell launches new generation of AI, edge computing servers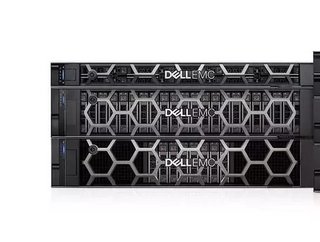 The new Dell EMC PowerEdge portfolio has been expanded with 17 new servers that deliver improved energy efficiency and AI capabilities to the edge...
Dell EMC unveiled the next generation of its PowerEdge servers this week. The new range includes 17 servers aimed at supporting enterprises' edge computing, AI and automation capabilities. 
"Data is being created and used in more places than ever before, and organisations are challenged to act on it as quickly as possible," commented Jeff Boudreau, president and general manager of Dell Technologies' Infrastructure Solutions Group.
"As we innovate for the future of IT, advanced automation is a must, no matter where infrastructure resides. Our new PowerEdge servers offer next-level performance to help customers accelerate data insights and the move toward autonomous compute."
Built for the edge
Increasingly, advancements in IoT and 5G technology mean that more and more demanding workloads are being shifted away from the centre of networks towards the edge, where operators can take advantage of the kinds of ultra-low latency connections that are required to support everything from drone fleets and self driving cars to advanced real time analytics and mixed reality. 
Among the newly released servers, the PowerEdge XR11 and XR12 are Dell's latest entrant into the field of ruggedised digital infrastructure. Designed to operate for long periods of time in remote or harsh environments, the XR11 and XR12 are designed to support increasingly complex computing workloads at the edge of customers' networks. 
"Infrastructure has long been evolving beyond the data centre, and workloads at the edge are only becoming more complex," said Patrick Moorhead, founder and president, Moor Insights & Strategy. "Dell's servers and intelligent management solutions give organisations the compute options and tools to run even the most complex workloads from the data centre to the edge or wherever they need to be."
Powering next-gen AI
As the capabilities of AI increase, so too do the demands placed upon the hardware that supports it. Dell's new PowerEdge servers now reportedly feature "PCIe Gen 4.0 – doubling throughput performance over the previous generation – and up to six accelerators per server to support the most challenging, data-intensive workloads." By coupling this hardware with PowerEdge's autonomous intelligence capabilities, make this Dell's most AI-friendly server portfolio to date. 
Specifically, Dell is touting the new PowerEdge XE8545 as a "powerhouse for AI workloads", capable of crunching through huge datasets faster than ever thanks to the 128 cores of 3rd Generation AMD EPYC processors (which have ) and four NVIDIA A100 GPUs.
Forrest Norrod, senior vice president and general manager of AMD's Data Centre and Embedded Systems Group, commented on the partnership: "The relationship with AMD and Dell Technologies in the data centre keeps getting stronger with the launch of the 3rd Gen AMD EPYC server CPUs, available today in the latest lineup of the Dell EMC PowerEdge server portfolio. Together, we are helping not only to deliver some of the world's highest performing servers for enterprise customers but are also pushing the boundaries on AI with the PowerEdge XE8545."