Top 10 data centre companies in the Middle East and Africa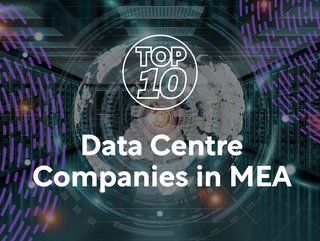 Top 10 data centre companies in the Middle East and Africa
Data Centre Magazine runs through some of the leading data centre companies across the Middle East and Africa
With the Africa data centre market projected to register a CAGR of 15.41% and 14.74% in the Middle East, an increasing amount of facilities are being established across the region, with major players in other geographies venturing into this area.
The Africa data centre market size is expected to cross US$3bn by 2025. The market has remained comparatively strong after the pandemic, it continues to steadily grow - with interest growing with it including from the likes of major global cloud service providers.
And over in the Middle East, the market has remained buoyant, despite pressures of the pandemic. The market is predicted to grow at a CAGR of approximately 7% until 2024.
Here is Data Centre Magazine's round up of the leading data centre providers operating in the Middle East and Africa.
Electronia offers collocation and data management services. Owning and operating a Tier IV standard carrier neutral facility, Gateway Gulf, in the Kingdom of Bahrain. A second carrier neutral facility named Electronia operates in the Kingdom of Saudi Arabia with a lower tier level. With a view that without communication there can be no progress, Electronia's philosophy is to use new, breakthrough ideas to give each of its customer an ICT system which expands their knowledge and enterprise.
A leader in Israel's data centre market for more than two decades, MedOne provides computing services for local and international enterprises alike. It operates highly secure underground facilities, MedOne operates more than 320,000sq ft of data centre space across its underground sites. Last year, US private investment firm Berkshire Partners acquired 49% of MedOne for US$215 million.
8. BCX
HQ: Johannesburg, South Africa
CEO: Jonas Bogoshi
BCX has 12 data centres across South Africa and offers 24/7 operational support to its customers to meet regional and global demand. Its Centurion headquarters opened in 2017, boasting 36,000sqm of office space as well as a 2,500sqm warehouse. BCX's specialists offer consulting services to assist in designing, building and maintaining world-class facilities.
Founded in 2012, Rack Centre focuses on providing data centre colocation services and unrestricted interconnect between carriers and customers. The brand serves a variety of clients, including 64 telecommunication carriers, ISPs and pan Africa international carriers. Under the leadership of Group CEO Jasper Lankhorst, Rack Centre has become a leader in the industry with global recognition for delivery and quality excellence, taking the business from start-up in 2013 to a full-scale operation.
One of the leading and trusted wholesale data centre providers in the Middle East and North Africa region, Khanza - which translates as 'safe' in Arabic - offers its customers infrastructure solutions that are energy-efficient and cost-effective.
Its core mission is to build and operate a comprehensive ecosystem through state-of-the-art data centres for world-class organisations through highly secure, efficient, reliable, and scalable facilities. Khanza says that through dynamic collaboration, Khazna's data hosting solutions help drive business forward, connecting today's ambitions with tomorrow's successes.
Operators of the world's largest solar-powered data centre as recognised by Guinness World Records, MoroHub has a vision to accelerate the UAE into the future. Forming the backbone of Digital DEWA, Moro Hub was established to fulfil the need for an innovative and agile data centre. Moro Hub offers next-generation digital and cloud services, and its government-backed service provider has one of the leading data centres in the region.
The record-breaking facility in Mohammed bin Rashid Solar Al Maktoum Park was opened by Sheikh Hamdan bin Mohammed, Crown Prince of Dubai earlier this year.
Home to East Africa's largest hypercloud-ready campus, IXAfrica's centralised, state-of-the-art data centre and carrier neutral colocation facility is amid Africa's growing technology epicentre in Nairobi, Kenya. The brand is the largest and technologically advanced digital habitat for cloud, collocation, and connectivity in East Africa, designed to assemble hypercloud and internet customers in East Africa's largest data hub campus. IXAfrica offers the first hyperscale data centre in East Africa and strategically located around Africa's growing technology epicentre.
Its CEO Guy Willner has built out hyperscale data centre infrastructure across the world where demand is high and continues to strike out at the forefront of developing markets.
MainOne is a leading West African data centre and connectivity solutions provider. The company, acquired by Equinix in December 2021, has presence in its home country of Nigeria as well as Ghana and Ivory Coast (Côte d'Ivoire). It provides services to major telecom operators, ISPs, government agencies, small to large enterprises, and educational institutions. MDXi, a subsidiary of MainOne, builds and operates data centres across West Africa.
CEO Funke Opeke is one of the leading voices in African data centres, and a hugely inspirational figurehead for women in the regional market, as well as the wider data centre industry.
2. Africa Data Centres
HQ: Johannesburg, South Africa
Group Executive Director: Stephane Duproz (of parent company Cassava Technologies)
Africa Data Centres operates with a core goal in mind: "Empowering Africa through excellence". The company brings global skills to local markets as a trusted partner for rapid and secure data centre services across the African continent. All facilities are purpose-built and entirely owned and operated by Africa Data Centres, meaning the physical and digital security of data and transactional computer processing remain front of mind. Africa Data Centres has one of Africa's few tier 4-certified facilities.
One of Africa's leading carrier-neutral colocation providers, Teraco is the first provider of highly resilient, vendor-neutral data environments in sub-Saharan Africa. The brand was acquired by Digital Realty in 2022 and forms a vital part of the African internet's backbone with its infrastructure and network-dense ecosystems. A growing company, Teraco is Africa's largest data centre provider and its capacity continues to expand. Back in January, the company raised R11.8bn rand (US$680 million) in funds, which its Chief Financial Officer Samuel Erwin said would assist with its expansion plans and power build-out.
******
For more insights into the world of Data Centre - check out the latest edition of Data Centre Magazine and be sure to follow us on LinkedIn & Twitter.
Other magazines that may be of interest - Mobile Magazine.
Please also check out our upcoming event - Cloud and 5G LIVE on October 11 and 12 2023.
******
BizClik is a global provider of B2B digital media platforms that cover Executive Communities for CEOs, CFOs, CMOs, Sustainability leaders, Procurement & Supply Chain leaders, Technology & AI leaders, Cyber leaders, FinTech & InsurTech leaders as well as covering industries such as Manufacturing, Mining, Energy, EV, Construction, Healthcare and Food.
BizClik – based in London, Dubai, and New York – offers services such as content creation, advertising & sponsorship solutions, webinars & events.