Top 10 DE&I leaders in the data centre industry to follow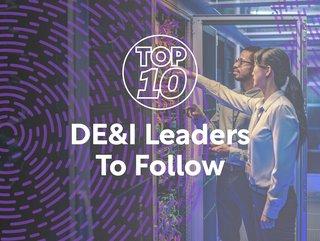 Here are the top 10 DE&I leaders to follow, brought to you by Data Centre Magazine
We round up the top leaders in diversity, equity and inclusion who are ensuring the data centre industry is a more inclusive and welcoming space
Diversity, equity and inclusion (DE&I) is a big deal for socially-aware companies, regardless of their industry. But addressing the data centre industry's shortcomings is of increasing importance.
The industry is facing a critical skills shortage, and more needs to be done to get people from a variety of backgrounds not usually represented in the data centre sector to be part of the workforce to prevent the issue from getting worse.
According to the Uptime Institute, as of 2023, almost half the data centre workforce today has 20 years of experience or more, and by 2025 half of existing engineering staff will retire despite the number of staff needed to run the world's data centres predicted to grow from around two million to nearly 2.3 million by 2025. The global digital infrastructure authority also stated in 2021, more than three-quarters of data centre operators surveyed said less than 10% of their staff members were women, unchanged since 2018.
And it's not just female representation that matters. Attracting ethnic minorities and those from disadvantaged backgrounds is also a priority for the industry. Of the 137,000 tech employees who responded to a D&I survey about their ethnicity, over a quarter identified as being part of an ethnic minority group. This compares impressively to the wider tech workforce, which was estimated to have 18% ethnic minority representation in a 2020 study by BCS.
Here are the top 10 DE&I leaders to follow, brought to you by Data Centre Magazine.
"This is an amazing industry where women have great opportunities and we are eager to see diversity improve in our teams," Rodríguez Henríquez told JSA. "When you work with people from different nationalities and cultures, you realise that [prejudices are] still more perceptible.
With experience in the Spanish data centre market, she says that by working with teams, promoting and sharing the team standard will be a way to ensure minimum levels of coexistence and respect.
With more than 25 years of data centre experience - and almost 10 of those at Equinix before her departure last year - it's safe to say Baack has left her mark on the data centre industry. She seeks to inspire diverse global teams with high energy, high standards, deep devotion, and deep humility.Sara has been named Silicon Valley Business Journal's CMO of the Year, and as one of the Top 50 Most Powerful Women in Tech by the National Diversity Council.
With more than a decade of experience in the data centre industry, Hulbert is an advocate for women in tech and STEM initiatives. She has been named to Mirror Review's Top 10 Most Prominent Leaders in Cloud Computing. Recognising different regions have different needs, she advocates for how this also applies within the workforce.
"The industry has recognised very early on that you need a diverse workforce to solve for our growing global community," she said. "Of course, we can do better."
She has three key focuses, being the diversification of roles, education, upbringing, and culture bring a unique set of skills to every role that is filled, increasing STEM education and supporting women in tech.
7. Kim Anstett
Role: Global CIO
Company: Trellix
With more than 25 years experience in the corporate technology sector, Anstett has been a constant champion of early career development and diversity and inclusion programs. As well as being named as one of WomenTech Network's 100 Executive Women in Tech to Watch in 2023, Anstett previously served as CIO of Iron Mountain before being promoted to Executive Vice President & CTO 12 months later. She was also CIO for Nielsen.
"It's been proven that the most diverse teams are the most effective teams," she told Boston Business Journal. "I firmly believe that's true."
Opeke is one of the leading voices in African data centres, and a hugely inspirational figurehead for women in the regional market, as well as the wider data centre industry. She is dedicated to promoting gender diversity in the tech industry.
She is seen as a figurehead in the telco space, with an extensive career in the industry. After working in the US telecoms sector for 20 years, she returned to her native Nigeria to focus on the connectivity problems there and has worked to improve Nigeria's internet presence, which was once mainly associated with scams. She is often recognised as being the catalyst for this change. Opeke was also named as Women of the Year at Capacity Media's 'Global Women in Tech & Telco Awards' in 2020.
5. Sophia Flucker
Role: Technical DirectorTechnical Director
Company: MiCiM Lt
Flucker is one of 100 individuals recognised with an IM100 Award, given to those who champion DE&I among other accolades. A Chartered Engineer, she has worked as an engineering consultant on a variety of projects in several countries, delivering data centre design, commissioning, training and risk and energy assessments.
She has a cross-industry perspective of DE&I, and said at Data Centre LIVE: "We know we [members of the data centre industry] are not as diverse as we should be so, certainly, we need to do more.
"Diversity and inclusion isn't just about gender or one issue; there are so many different types of diversity and I think we really need to open up the conversation to think about how we're dealing with different minorities."
She is a firm advocate of curbing the issue of the industry growing at such a rate that positions can't be filled quickly enough."A wider issue is that people are not so aware of the industry or jobs in technology and engineering in general," she added. "It actually starts very young. If children don't think they want to be an engineer, you've already got a reduced talent pool."
4. Danni Xu
Role: Lead, Infrastructure Strategy and Commercial
Company: Sea Ltd
Xu has a long history in the data centre space, spanning more than a decade, including in roles with Singtel and Telstra Global Data Centers. Although she has seen strong determination for more female leaders in the industry, she feels if someone has the willingness to play a role in the growth of the sector they should be given the opportunity, regardless of their gender or background.
"We always say that we need to balance between your work and your family. But the balance is very natural when your company or the people surrounding you give you sufficient understanding and support," she told W.Media.
3. Marientina Laina
Role: Director of Sustainability
Company: NTT GDC
As well as being a champion for sustainability in the data centre industry and working tirelessly toward net zero solutions, Laina also addresses DE&I from a data centre perspective and how to tackle the industry's talent shortage.
"We can always do better," Laina said during The DE&I Forum at Data Centre LIVE in May 2023. "It's important to know that women in tech make up approximately 25% of the workforce, which is quite telling. When I made the decision to join the tech centre, friends and colleagues asked 'are you really sure, because it's a very male-donminated industry?'"
At MiCiM, she said, increasing these figures is a commitment and a meaningful priority for DE&I. Since FY21, the company has managed to increase women's representation from 11 to 28% in executive leadership.
She said: "We are committed to do better and do more."
Despite retiring aged 47 in 2014, Nancy Novak came out of retirement three years later to join Compass Datacenters in 2017.She is a veteran of the construction industry, boasting around three decades of experience overseeing more than US$3.5bn worth of renovations and construction projects for airports, hospitals, and even the Pentagon.
Novak is heavily involved in several organisations advocating for technological advancement in the construction and digital infrastructure sectors, and is a vocal ally of women in leadership roles. She currently serves as the Board of Director Vice Chair on the National Institute of Building Sciences BIM Council, as well as Executive Sponsor for the Digital Divide on the iMasons Advisory Board. Novak believes that there is so much opportunity in the industry, but few know about it or how to tap its potential. A passion of hers is teaching young children about construction and technology and stresses the importance of this to educate teachers, too.
A passionate driver of creating a more diverse workforce and making entry into the industry more accessible for those from underrepresented and marginalised backgrounds, Dr Mullick said in a recent interview with Data Centre Magazine that the "lack of diversity not only hinders individual opportunities but also limits the potential for innovation and progress".
Dr Mullick is passionate about creating a more diverse workforce and promoting inclusivity from witnessing the underrepresentation of women and other marginalised groups in the technology industry first hand. Outside of her role at Iceotope she has created content to promote greater equality in the workforce and make entry into the industry more accessible for those facing barriers. More than 3,000 women have attended a training created by Dr Mullick, and she is a proud Co-Founder of the Portland chapter of UPWARD, a global networking organisation accelerating the advancement of executive women.
"I want to change the metrics we see for women in technology," she adds. "For upwards of 25 years, women have represented approximately 20% of engineering graduates, however, we represent about 50% of the general population. I want to see those barriers broken and foster technology talent in girls from a young age."
******
For more insights into the world of Data Centre - check out the latest edition of Data Centre Magazine and be sure to follow us on LinkedIn & Twitter.
Other magazines that may be of interest - Mobile Magazine.
Please also check out our upcoming event - Cloud and 5G LIVE on October 11 and 12 2023.
******
BizClik is a global provider of B2B digital media platforms that cover Executive Communities for CEOs, CFOs, CMOs, Sustainability leaders, Procurement & Supply Chain leaders, Technology & AI leaders, Cyber leaders, FinTech & InsurTech leaders as well as covering industries such as Manufacturing, Mining, Energy, EV, Construction, Healthcare and Food.
BizClik – based in London, Dubai, and New York – offers services such as content creation, advertising & sponsorship solutions, webinars & events.