Aruba S.p.A on growth and sustainable data centre management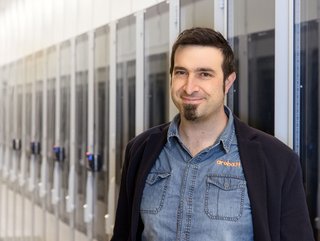 Giancarlo Giacomello is Head of Data Center Offering at Aruba S.p.A. Credit: Aruba S.p.A
Giancarlo Giacomello, Head of Data Center Offering at Aruba S.p.A. talks about the company's continual growth and unwavering commitment to going green
Italian-founded Aruba S.p.A is at the forefront of plenty of exciting things - including being one of the first data centre operators to certify its adherence to Climate Neutral Data Centre Pact as well and signing to be part of the European Green Digital Coalition, as well as building a large data centre campus in Rome made up of five independent buildings, scheduled to be open by the end of 2023.
This marks a new era for Aruba. And following Aruba and Euronext's discussions on the process of infrastructure migration and its sustainable management at Data Centre Nation Milan 2023 - involving in-depth studies of data centres - Aruba's Head of Data Center Offering Giancarlo Giacomello discusses the company's future and pursuit of sustainable practices.
Hi, Giancarlo! Tell us a little bit about yourself and your role at Aruba S.p.A
My career in IT management began just over 10 years ago, before joining Aruba back in 2017 as a Data Centre Project and Service Manager. Today, as the Head of Data Centre Offering, I now oversee all colocation projects for Aruba, often involving the top-level IT customers and hyper-scalers. I work closely with the Aruba TPM team to plan the life cycles of colocation data centre projects, mapping requirements, managing feasibility studies, and working with customers to match their needs and expectations with our infrastructure to get the best results.
In April this year, I also became a member of the Board of Directors for the Climate Neutral Data Centre Pact, a role in which I regularly meet with signatories of the pact to discuss the progress of our green initiatives.
How do you see the data industry and data centres as a whole evolving in the near future?
Over recent years we've seen some real change in the European data centre market which has allowed the Italian data centre industry, and Aruba, to position itself as a key player, complementary to or even as an alternative to FLAP-D data centres. Our recent partnership with Euronext proves just that: the decision for one of the main players in the pan-European financial market to migrate its main data centre and related services to our campus in Bergamo is really exciting for the region.
Globally, it's no secret that we're seeing a big move towards data centre sustainability. It is increasingly expected for companies to prove their commitment to increasing their use of renewable energy within data centres. The birth of the Climate Neutral Data Centre Pact was a huge indicator of this change coming into place: an agreement made between many European operators and trade associations to self-regulate towards sustainability and make European data centres climate neutral by 2030. Whilst this certainly won't be easy, it's great to see the industry take initiative and face these challenges.
What is Aruba S.p.A doing to ensure sustainable data centre management?
Aruba holds a commitment to a sustainable future and IT at the heart of its vision. With investments in hydroelectric plants and photovoltaic systems, as part of the design and construction of data centres, we are committed to increase and widen our production of energy from renewable sources.
In March this year, Aruba became one of the first data centre operators to certify its adherence to Climate Neutral Data Centre Pact, demonstrating real and measurable progress towards becoming climate neutral by 2030.
Along with 25 other European companies, Aruba also signed to be part of the European Green Digital Coalition in order to commit to key digital initiatives working towards an environmentally-friendly digital transition, thus aiming to invest in development and deployment of sustainable and efficient digital services.
At a practical level, Aruba's data centres are being designed and built with environmental impact in mind, therefore paying attention to all the aspects that could enhance the efficiency of the infrastructures considered in what we call a 'green-by-design' approach. In April, we announced the acquisition of two additional hydroelectric power plants in Bergamo, bringing Aruba's total hydroelectric power plant network to a total of seven power plants and to a capacity of up to 9.2MW for the production of clean energy, with an expected annual output of approximately 50GWh. This is the first of many green investments we plan to make in this year and in upcoming ones.
Is Aruba S.p.A looking to extend its reach beyond Europe? Or expand more within Europe?
Aruba's current focus is on its EU network and expanding further in Italy. At the moment, we are concentrating on building the largest data centre campus in Rome, which will comprise of five independent data centre buildings each with 6MW capacity. The campus will be opened by the end of this year and represents an exciting new era for Aruba which will increase the quantity and capacity of domestic connections and ensure reliable and efficient services across the country. Rome will also provide Aruba with prime connectivity to sites in the UK, France, Germany, Czech Republic and the rest of Europe.
Tell us what you are excited about with Aruba's sustainability plans, or what the company is doing to stay ahead of industry trends
Back in March this year Aruba and CyrusOne were the first, among the pact's signatories, to complete their initial audit necessary to gain the adherence to the Climate Neutral Data Centre Pact SRI; from there we've shown no signs of slowing down: there is a great deal to look forward to when it comes to our sustainability plans. Our new Rome campus will be at the forefront of this, using 100% renewable energy and using for example photovoltaic systems and efficiency optimised indirect free-cooling paving the way for the future of sustainable data centre management.
Even if it may appear that the markets have slowed down in the last months, with a long haul of the Covid, semiconductors, energy and Ukraine crises, we expect the demand will continue to grow for data centres in the next few years. We also expect to see high density colocation become more and more popular, given the great attention that specific applications such as AI-based ones started to gain in the last couple of months.
Higher density colocation means managing more power on the same amount of space than before; this could lead to a dichotomy in the industry as denser racks, being more energy-intensive, are quite in contraposition with the idea of energy unit-per performance optimisation trends that are at the base of newer hardware generations, which instead comply with sustainability topics.
However, it's undeniable that the lookout for sustainability is crucial to all customers now, including those that will be forced to use HPC or high density colocation by the specific services and businesses they operate in, therefore I believe that ultimately these two trends will find a way to coexist and develop together.
What are some of the biggest lessons you've learned in recent years?
One very important thing we have realised in the last couple of years, that has always been our standard approach towards the bigger colocation projects, is how crucial it is for customers to have dedicated support when managing their migration and development of colocation projects.
We have always looked towards our customers' projects with the idea of being not only their colocation providers, but also their consultants and advisors.
With several years of expertise in the data centre field and thanks to the fact we design, build, commission and manage our own infrastructures, we've developed a complete knowledge about their operative capabilities, so it's kind of natural that we are the ones suggesting to our customers the most suitable solutions, approaches, alternatives and eventually new ways through which they can achieve their targets or comply with their requirements by blending them in our design. In this way their aims are also achieved in the cleanest, safest, and most optimised way.
In the end I guess it means 'knowing how to do our thing', but as I said above, we've always thought this was the standard in the business, and just recently realised that this is a not so common approach in the industry. What is certain is that it is crucial for customers to have specific resources and dedicated teams which have to be capable of supporting them at this level.
Giancarlo Giacomello is Head of Data Center Offering at Aruba S.p.A. and is responsible for all colocation projects for Aruba, often involving the top level IT customers and hyperscalers. Founded in 1994, the Italian company is one of Europe's primary providers of IT data centre and web hosting services, and one of the largest cloud providers and leading companies in data centre, cloud, hosting, trust services, email, PEC certified email and domain registration services. Aruba S.p.A has a wealth of experience in the management of data centres, with a European network capable of hosting over 200,000 servers. ​​​​​​​