First year of STULZ's mission critical cooling test centre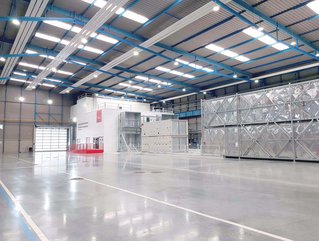 STULZ's Jürgen Stulz air conditioning test centre - which is located in Spain, and is the largest in Europe - celebrates its first year of operation
The pioneering Jürgen Stulz Test Centre, created by the mission critical air conditioning specialist STULZ, is currently celebrating the conclusion of its first operating year.
How Europe's largest air conditioning test centre has supported the data centre industry
The air conditioning test centre has enabled STULZ to enhance the precision of its measurements, while maximising its climate control standards.
Located in Esquivias, Spain, the test centre comprises an area of 1,110m2, and provides air conditioning test capacities of up to 1MW, and can test air handling units with an airflow rate of up to 240,000m3/h.
As one of Europe's most powerful mission critical cooling system facilities, this new site has enabled STULZ to expand its global services in the field of factory acceptance testing of technical air conditioning systems.
This is not only allows for accurate and reliable quality measurements, but it is also instrumental in enabling STULZ to continuously optimise its energy efficiency, and reduce carbon dioxide emissions.
As such, the site is increasingly being used both for the testing of existing units, and the research and development of future, more sustainable projects.
"Unlike conventional test laboratories, various configurations and devices with different dimensions can be tested at the Jürgen Stulz Test Center, offering a level of flexibility that makes it possible to variably adjust airflows and bypasses in order to test devices exactly according to the technical specifications required by the customer", explained Ton Fens, the Air Handler Business Unit Director of STULZ.
"International customers can also follow the test sequence in real time from anywhere in the world thanks to the live streaming system, without having to physically attend the test each time."