Top 10 net zero pointers from data centre expert to execs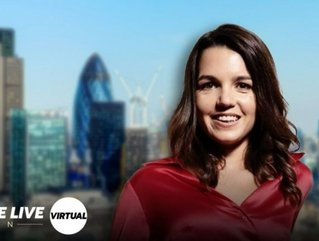 Marientina Laina hosted a sustainability keynote at Data Centre LIVE in May
Data Centre Magazine summarises Director of Sustainability NTT GDC Marientina Laina's top net zero tips as shared at Data Centre LIVE
Marientina Laina is NTT Global Data Centers' Director of Sustainability. An experienced environmental professional, Laina has extensive experience in consulting, policy analysis and research. Before joining NTT in October 2022, Laina held senior consultancy roles - some revolving specifically around sustainability - at the likes of Schneider Electric and Deloitte.
Speaking at Data Centre LIVE back in May, Laina's keynote Connected Planet: Our net zero commitment focused on the industry's commitment to net zero and the value of reducing emissions from operations, NTT's sustainability themes and specific strategies to meet net zero targets by both 2030 and 2040 and the use of renewable energy, operational efficiency, sustainable delivery, and collaboration with suppliers and clients - as well as initiatives already under way.
Here, we summarise the top 10 takeaways from Laina's keynote which can be implemented to contribute to the net-zero agenda, reduce environmental impact, and create a more sustainable data centre industry.
10. Embrace the net zero commitment
Laina recognises the importance of committing to net zero and its significance for global data centres.
"Our net zero commitment is about reducing emissions, reducing our emissions from our operations, but also across our value chain," she said. She also explained NTT's commitment to reducing at least 42% of its total greenhouse gas emissions by 2030 and at least 90% by 2040.
9. Focus on global presence and rapid growth
Highlighting NTT's worldwide presence - and the high-speed rate in which it is expanding - the company has a presence in more than 20 countries with plans of expansion. Leveraging that expansion for good, Laina recognised the importance of local capabilities and helping clients through digital transformation. She stated that data centres are in a unique position to use this advantage to drive positive change and make a significant impact on reducing emissions and promoting sustainability.
8. Support clients' digital transformation
Data centres play an important role in supporting clients' digital transformation journeys. Laina explained that by providing services and solutions that enable clients to achieve their sustainability goals pave the way to a more resilient and sustainable future. "How we work with our clients and also with our suppliers, we need to make sure that we are all on the same sustainability journey," she detailed.
7. Prioritise the reduction of greenhouse gas emissions
Following on from NTT's aforementioned commitment to reducing greenhouse gas emissions, the company has pledged its commitment to establishing more KPIs on its connected climate commitment, which she billed a "journey". She highlights how it is about setting the example of not just saying it is committed to reducing emissions, but also about holding yourselves and others accountable and tackling the issue head-on.
6. Engage with suppliers and clients
"As I mentioned the beginning of my presentation, we're quite mindful of the fact that it is not just about data centre operators and power, it is also about the role that we can play in a world where we help our clients with digital services, that we provide for their own transformation and having a positive impact in our community as well," Laina stated in her keynote, sharing that environmental issues are not something that can be tackled successfully alone, with collaboration towards a common goal needed.
5. Strive for renewable energy
With NTT - like many others - having a commitment to use 100% renewable energy in all its data centres by 2030, Laina said that when it comes to its footprint, power is the most material part of that. "But that does not mean that we are not mindful of our other hotspots and we are not working internally and with our suppliers and clients to get there either," she said. She emphasised the importance of prioritising renewable energy sources to increase efficiency and reduce carbon footprint.
4. Emphasise operational efficiency
Efficiency can have co-benefits, Laina detailed. "In the spirit of good practice as well, we have recently deployed liquid immersion cooling and direct contact liquid cooling technologies, which has contributed to increasing efficiency up to 30%." Here, NTT is not only streamlining its efficiency with a more effective cooling system in place, but it is an approach with steadfast environmental benefits, too. By implementing sustainable design practices - whether in new facilities or improving existing sites - the efficiency of the data centres can be continually improved.
3. Report progress transparently
Greenwashing is an issue in all industries, and Laina stressed the importance of ensuring sustainability practices aren't reduced to being a tick box exercise. By establishing robust reporting mechanisms, like at NTT, data centre operators can track and communicate progress which can be then celebrated and circulated and subsequently built upon to continue to pave the way to a more sustainable future.
2. Embrace innovation and co-benefits
Building on Laina's points about operational efficiency, she calls for data centres to embrace technological advancements and innovation to drive sustainability. By identifying opportunities for co-benefits - such as waste heat reuse or liquid immersion cooling - data centres can benefit from solutions that positively impact both the business and environment.
1. Stay informed and collaborate
Staying up to date with industry best practices, emerging technologies, and sustainability trends is one of the best - and most important - ways to work toward net zero, Laina stresses. By actively participating in knowledge-sharing platforms and collaborating with peers, the industry can collectively pave the way through collective efforts to a sustainable future.
"I do like to give people tangible, useful information to take away," Laina said. "What would your advice be for anyone who's having to go and make a business case for sustainability internally? How do you go about making that case when the company culture might be more about performance, they might be more about capacity, there might be other variables that are a higher priority? What advice would you give when actually making that business case internally?
"That's the million dollar question. It is very important to recognise that we work in a very competitive business industry right now." But following from that, the sentiment remains - that sustainability goals can only even be in touching distance if we work together.