Top 10 sustainable locations for data centres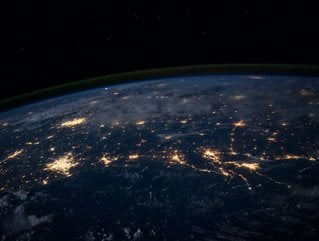 Data centre operators consider other locations worldwide to harness resources provided by the natural geography. Credit: NASA
Data Centre Magazine rounds up the top 10 sustainable data centre locations from around the world
With data centre operators worldwide putting their sustainability agendas centre stage for both the benefits of the planet and efficiency, many companies are widening their scope and looking to establish new facilities in different locations to harness the benefits of natural geography.
Data Centre Magazine runs through countries putting sustainability matters at the forefront of the agenda, and lists the locations with resources that operators can respectfully tap into to fuel our digital world.
10. Japan
Subsidies, zero carbon-emissions and environmental cooling systems are shaping Japan's data centre industry and with the country's New Energy and Industrial Technology Development Organization (NEDO) funding new 'green data centre' research projects. Japan plans to continue to build more new facilities in its colder regions to utilise the benefits of the natural climate. Masafumi Nojiri, Deputy Director at the Environment Ministry's Global Environment Bureau, explained, "Lifestyle changes have resulted in a surge in power use. We have to address the issue of data centres, one of the major energy consumers."
NEDO believes developments thanks to research could make facilities more energy-efficient without sacrificing performance.
9. Finland
Released in May, The Helsinki Data Center Market Report 2023 shed light on the growth of the prominent European data landscape in the Finnish capital. The country has opportune data centre prospects: Finland offers remarkably low electricity costs and good availability of green energy. Compared to other European locations, investors can save up to 50% on energy costs and data centres using more than 5 MW of power enjoy a lower energy tax rate.
With one of the world's most reliable electricity supply infrastructures and access to cost efficient sustainable green energy, Finland also benefits from a cool climate, which allows for efficient natural air cooling of IT infrastructure.
8. UAE
Following the launch of Moro Hub Data Centre, Dubai - the world's largest solar-powered data centre - the desert city was given the Guinness World Record crown for the accolade. Measuring 16,031.925 m2, the carbon-neutral green data centre uses 100% renewable energy and has a capacity exceeding 100 megawatts (MW). With the country set to attract more data centre investments as its market grows, sustainability efforts are becoming more of a main focus.
One of the Middle East's largest data centre operators Khazna Data Centers anticipates that the UAE will become the top location for the data centre industry globally and draw more investments - but with a focus on sustainability.
7. North Virginia
One of the world's largest data centre markets, the sector in North Virginia in the US created 45,290 full-time-equivalent jobs in the state with US$3.5 billion in associated pay and benefits. Its scale means the region attracts plenty of attention, and plenty is being done to reduce power usage, and ensure whatever is utilised is done as sustainably as possible.
Adoption of immersion cooling is aiding the support green-friendly data centres thanks to its sustainability and efficiency benefits such as no water waste and the possibility of heat reuse.
Dominion Power, the electric utility servicing Northern Virginia, is investing heavily in renewable and sustainable energy – pledging to get 15% of its energy from renewable sources by 2025.
6. Singapore
Last year Singapore was ranked as the number two most-desirable market for data centre facilities in the world. Earlier in 2023, Singapore launched a standard for optimising the energy efficiency of centres in tropical climates. The Infocomm Media Development Authority (IMDA) standard suggests operating facilities at higher temperatures to reduce the energy used in cooling.
The standard, tested by Digital Realty in its Singapore facilities, aims to offset extra energy needed to drastically alter facility temperatures in a bid to remain cool while not contributing to the burning of the planet. "APAC is set to be the biggest market for data centres, with Southeast Asia being one of the fastest growing regions globally," Omer Wilson, Chief Marketing Officer at Qarbon Technologies said of the wider region during his tenure as Head of Marketing APAC at Digital Realty.
5. Brazil
Leading Latin American platform of sustainable data centres in the hyperscale market Scala Data Ceters was the first Latin American data centre company to attain carbon neutrality in 2021.
The Brazil-based data centre platform received the certification after reaching net zero carbon emissions in 2020/2021, proving that the nation is a key player in the sustainable data centre sphere. Scala's carbon compensation projects deliver a number of other sustainable development benefits to the country.
Marcos Peigo, Co-Founder and CEO of Scala, said: "We are setting a new standard for the data centre industry by proving through tangible actions that it is possible to reconcile robust growth with investments based on sustainability."
4. Scotland
The Data Centre Site Selection Report, the updated version of which was released in June 2023, was commissioned by Host in Scotland and identified 20 of the best sites in the country suitable for green data centre development. The country's temperate climate and renewable energy capability make it the perfect location for green data centres. The sites outlined in the report offered conditions that could quickly and easily lend themselves to becoming home to a new green data centre.
Henry Sutton, Director at Scottish-founded data centre consultancy TechRE said: "Scotland's climate and renewable energy capability make it an ideal location for data centres. Data centres increasingly seek out access to large sources of sustainable energy whilst plans for renewable projects, particularly major wind farms off the coast of Scotland come to fruition."
3. Ethiopia
With Ethiopia teeming with renewable energy resources with the potential to generate over 60,000 MW of electric power from hydroelectric, wind, solar and geothermal sources, it makes an ideal for sustainable data centre facilities. Approximately 90% of the installed generation capacity is from hydropower while the remaining 8% and 2% is from wind and thermal sources, respectively.
"Not only does Africa as a continent have an enormous number of cities with over a million population, it will also probably double over the next 30 years," CEO of IXAfrica Data Centers and Chairman of the International Data Centre Group Guy Willner said at Data Centre LIVE 2023.
2. Iceland
Iceland's combination of using renewable energy for electricity and power, its extremely reliable grid and its cold climate make it an ideal place to locate a data centre.
Data Centres by Iceland call this 'the Iceland advantage', branding the country: "The ideal environment for your data. Certified 100% sustainable power. 100% of the time".
With 100% of Iceland's electricity a sustainable mix of geothermal and hydroelectric power generation - along with free cooling thanks to the naturally cool climate - the partnership assures facilities in Iceland will minimise carbon footprint and reduce long-term costs.
IBM also said Iceland is the 'coolest' place for data centres in a report.
1. Sweden
Keeping in Nordic nations, with the nation of Sweden working to achieve net zero emissions by 2045 and negative emissions thereafter, the country has announced a goal of becoming the world's first fossil-free welfare state.
And with that Sweden is emerging as a leader in data centre sustainability, with factors to that success including its cold climate which offsets the need for server cooling systems.
The Swedish Data Centre Association, which represents operators in the country, holds firmly the belief that the data centre industry plays a central role in the transition to a sustainable future, and aims to influence the industry so it can grow even stronger and lead sustainable growth.