Hewlett Packard to build supercomputer for NSCC Singapore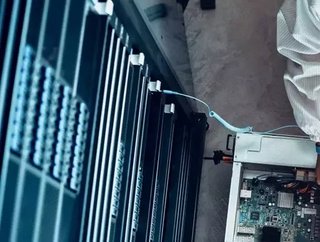 Hewlett Packard Enterprise has been selected to manufacture a SGD$40mn supercomputer for the National Supercomputing Centre in Singapore...
Hewlett Packard Enterprise has announced it has been selected to build a supercomputer for the National Supercomputing Centre (NSCC) in Singapore.
The U.S. tech company has been awarded SGD$40mn to complete the project which claims to be eight times faster than NSCC's existing HPC resources. 
Originally funded by a SGD$200mn investment the supercomputer will be built and powered using the HPE Cray EX Supercomputer, an HPC system which supports next-generation supercomputing.
Talking about the project, Bill Mannel, Vice President and General Manager of HPE, said: "We are honored to continue empowering their mission by building them a powerful system using the HPE Cray EX supercomputer that delivers comprehensive, purposely-engineered technologies for demanding research.
"The new system will deliver a significant boost to R&D, allowing Singapore's community of scientists and engineers to make greater contributions that will unlock innovation, economic value, and overall, strengthen the nation's position in becoming more digitally-driven," he said. 
The supercomputer also aims to progress research efforts through the use of artificial intelligence (AI) and deep machine learning, maximising modelling and software simulation for quantum computing. 
Housed in a data centre designed for increased sustainability and reduced energy consumption, the NSCC's supercomputer has liquid-cooling capabilities used to increase power density and energy efficiency by transferring heat. 
This aims to allow NSCC to further their Research and Development, making progress in several areas. These include: 
Understanding the spread of airborne cough droplets, critical to addressing immediate risks related to COVID-19.
Accelerating insights into weather forecasting and climate patterns for Singapore and Southeast Asia with high resolution weather modelling capabilities.
Advancing safety in autonomous driving with optimised AI training. 
Unlocking a new level of scientific discovery
Purpose-built for petaflop to exaflop performance, the HPE Cray EX Supercomputer includes a software stack gifting users with the high-performance of a supercomputer with the operational ease of a cloud. 
HPE also plans to integrate these next-generation technologies into its supercomputer platform: 
Expanded storage to support and share complex workloads: This models simulation and AI using the Cray ClusterStor E1000 storage system from HPE and HPE Data Management Framework. NSCC's new supercomputer will deliver 10 petabytes of storage with over 300GB/s of read/write performance speeds.
Purpose-built HPC networking using HPE Slingshot: This addresses demands for higher speed and congestion control for data-intensive workloads
Fully integrated software suite to optimize HPC and AI applications using the HPE Cray Programming Environment
Powerful compute to improve modeling and simulation using 3rd Gen AMD EPYC™ processors
Targeted accelerated computing capabilities with 352 NVIDIA® A100 Tensor Core GPUs for both HPC and AI workloads
Expanded network infrastructure with multiple 100Gbps links for upgraded connectivity between users and the supercomputing resources using the SingAREN-Lightwave Internet Exchange (SLIX) from the Singapore Advanced Research and Education Network (SingAREN)
HPE and the NSCC plan for the new supercomputer to be fully operational by early next year.